Safety and environment protection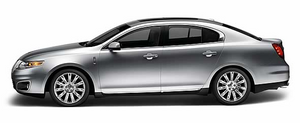 Warning symbols in this guide
How can you reduce the risk of personal injury to yourself or others? In this guide, answers to such questions are contained in comments highlighted by the warning triangle symbol. These comments should be read and observed.
Warning symbols on your vehicle

When you see this symbol, it is imperative that you consult the relevant section of this guide before touching or attempting adjustment of any kind.
Protecting the environment

We must all play our part in protecting the environment. Correct vehicle usage and the authorized disposal of waste, cleaning and lubrication materials are significant steps toward this aim. Information in this respect is highlighted in this guide with the tree symbol.
See also:
Damage
Periodically inspect the tire treads and sidewalls for damage (such as bulges in the tread or sidewalls, cracks in the tread groove and separation in the tread or sidewall). If damage is observed ...
2009 Lincoln MKS Review
When I was a tween, my older brother had a late-1960s Ford LTD. It was gold, HUGE in a sort of exaggerated way, and it had an old-school charm and soulfulness about it that was unforgettable. I ha ...
Power door locks
• Press the control to unlock all doors. • Press the control to lock all doors. ...