Replacing the battery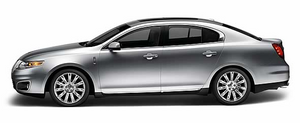 The integrated keyhead transmitter uses one coin type three-volt lithium battery CR2032 or equivalent.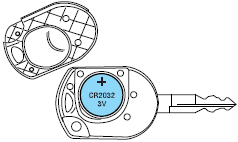 To replace the battery:
1. Twist a thin coin in the slot of the IKT near the key ring in order to remove the battery cover.
Note: Do not wipe off any grease on the battery terminals on the back surface of the circuit board.
2. Remove the old battery.
Note: Please refer to local regulations when disposing of transmitter batteries.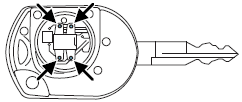 3. Insert the new battery. Refer to the instructions inside the IKT for the correct orientation of the battery. Press the battery down to ensure that the battery is fully seated in the battery housing cavity.
4. Snap the battery cover back onto the key.
Note: Replacement of the battery will not cause the IKT to become deprogrammed from your vehicle. The IKT should operate normally after battery replacement.
See also:
Side-curtain airbag system
WARNING: Do not place objects or mount equipment on or near the headliner at the siderail that may come into contact with a deploying side air curtain. Failure to follow these instruct ...
Vehicle loading – with and without a trailer
This section will guide you in the proper loading of your vehicle and/or trailer, to keep your loaded vehicle weight within its design rating capability, with or without a trailer. Properly loadin ...
Heated seats
WARNING: Persons who are unable to feel pain to the skin because of advanced age, chronic illness, diabetes, spinal cord injury, medication, alcohol use, exhaustion, or other physical conditions ...