Positions of the ignition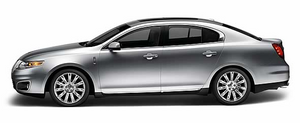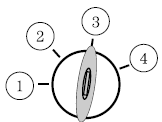 1. Off— locks the gearshift lever and allows key removal. This position also shuts the engine and all electrical accessories off.
Note:
In order to switch off the engine while the vehicle is in motion, shift to neutral and use the brakes to bring the vehicle to a safe stop.
After the vehicle has stopped, turn the engine off and shift into park.
Then, turn the key to the accessory or off position.
2. Accessory— allows the electrical accessories such as the radio to operate while the engine is not running.
3. On— all electrical circuits operational. Warning lights illuminated. Key position when driving.
4. Start— cranks the engine. Release the key as soon as the engine starts.
Note: Do not store the key in the ignition after the vehicle is turned off and you have left the vehicle. This could cause a drain on the battery.
See also:
Driver-assist technologies
The 2013 MKT offers a complete collection of driver assist technologies in addition to the array of six airbags, anti-lock brakes (ABS), traction control and AdvanceTrac® with RSC® (Roll Stability C ...
Illuminated exit
When all vehicle doors are closed and the ignition is turned off, the interior dome lamps, parking lamps and puddle lamps (if equipped) will illuminate. The lights will turn off if all the door ...
Bounce-back
When the window is moving upward and an obstacle or a rough road condition interferes with the window's movement, the window will automatically reverse direction and move down. This is known as ...