How to use the engine block heater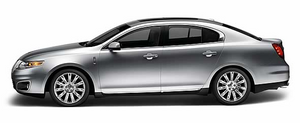 Ensure the receptacle terminals are clean and dry prior to use. To clean them, use a dry cloth.
Depending on the type of factory installed equipment, your engine block heater will use .4 to 1.0 kilowatt-hours of energy per hour of use. Your factory installed block heater system does not have a thermostat; however, maximum temperature is attained after approximately three hours of operation. Block heater operation longer than three hours will not improve system performance and will unnecessarily use additional electricity.
Make sure system is unplugged and properly stowed before driving the vehicle. While not in use, make sure the protective cover seals the prongs of the engine block heater cord plug.
See also:
Determining if the Personal Safety System is operational
The Personal Safety System uses a warning light in the instrument cluster or a back-up tone to indicate the condition of the system. Refer to the Warning light and chimes section in the Instrument ...
2010 Lincoln MKS Review
Lincoln is a brand adrift in the automotive marketplace. Few of its models set themselves apart from lesser-equipped Fords, and those that do usually fall short of the competition from Lexus, Infi ...
What you should know about fail-safe cooling
If the engine coolant supply is depleted, this feature allows the vehicle to be driven temporarily before incremental component damage is incurred. The "fail-safe" distance depends on ambient tem ...