ABS warning lamp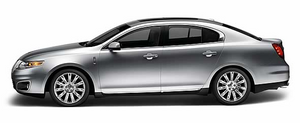 The ABS lamp in the instrument cluster momentarily illuminates when the ignition is turned on. If the light does not illuminate during start up, remains on or flashes, the ABS may be disabled and may need to be serviced.

Even when the ABS is disabled and the ABS light is on, normal braking is still effective. If your BRAKE warning lamp illuminates with the parking brake released, have your brake system serviced immediately.
Using ABS
When hard braking is required, apply continuous force on the brake pedal; do not pump the brake pedal since this will reduce the effectiveness of the ABS and will increase your vehicle's stopping distance. The ABS will be activated immediately, allowing you to retain full steering control during hard braking and on slippery surfaces.
However, the ABS does not decrease stopping distance and does not decrease the time necessary to apply the brakes.
See also:
What you should know about fail-safe cooling
If the engine coolant supply is depleted, this feature allows the vehicle to be driven temporarily before incremental component damage is incurred. The "fail-safe" distance depends on ambient tempe ...
Octane Recommendations
"Regular" unleaded gasoline with a pump (R+M)/2 octane rating of 87 is recommended. Some stations offer fuels posted as "Regular" with an octane rating below 87, particularly in high altit ...
Parking brake
To set the parking brake (1), pull the parking brake handle up as far as possible. The BRAKE warning lamp will illuminate and will remain illuminated until the parking brake is released ...