All-wheel drive (awd) system (if equipped)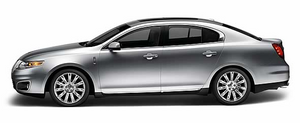 Your vehicle may be equipped with a full-time all-wheel drive (AWD) system. The AWD system is an active system, meaning it not only responds to wheel slip between the front and rear axles but also has the ability to anticipate wheel slip and transfer torque to the rear wheels before slip occurs. The AWD system is active all the time and requires no input from the operator.
All components of the AWD system are sealed for life and require no maintenance.
Note: When an AWD system fault is present, the warning CHECK AWD will display in the message center. The AWD system is not functioning correctly and defaulted to front wheel drive. When this warning is displayed, have your vehicle serviced at an authorized dealer.
If your vehicle is equipped with AWD, a spare tire of a different size other than the tire provided should never be used. A dissimilar spare tire size (other than the spare tire provided) or major dissimilar tire sizes between the front and rear axles could cause the AWD system to stop functioning and default to front wheel drive.
Note: Your AWD vehicle is not intended for off-road use. The AWD feature gives your vehicle some limited off-road capabilities in which driving surfaces are relatively level, obstruction-free and otherwise similar to normal on-road driving conditions. Operating your vehicle under other than those conditions could subject the vehicle to excessive stress which might result in damage which is not covered under your warranty.
See also:
Rearview camera system (if equipped)
The rearview camera system, located on the trunk, provides a video image which appears on the navigation screen of the area behind the vehicle. It adds assistance to the driver while rever ...
Going & Stopping
The MKX's drivetrain is another high point, with a 3.5-liter V-6 generating 265 horsepower at 6,250 rpm and 250 pounds-feet of torque at 4,500 rpm. The transmission is a six-speed automatic develo ...
Safety and environment protection
Warning symbols in this guide How can you reduce the risk of personal injury to yourself or others? In this guide, answers to such questions are contained in comments highlighted by the warning t ...