Changing the tires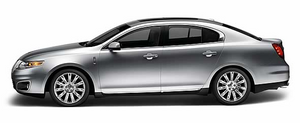 If you get a flat tire while driving, do not apply the brake heavily.
Instead, gradually decrease your speed. Hold the steering wheel firmly and slowly move to a safe place on the side of the road.
Note: The tire pressure monitoring system (TPMS) indicator light will illuminate when the spare tire is in use. To restore the full functionality of the monitoring system, all road wheels equipped with tire pressure monitoring sensors must be mounted on the vehicle.
Have a flat serviced by an authorized dealer in order to prevent damage to the TPMS sensors, refer to Tire pressure monitoring system (TPMS) in the Tires, Wheels and Loading chapter. Replace the spare tire with a road tire as soon as possible. During repairing or replacing of the flat tire, have the authorized dealer inspect the TPMS sensor for damage.
WARNING: The use of tire sealants may damage your tire pressure monitoring system (TPMS) and should not be used.
However, if you must use a sealant, the TPMS sensor and valve stem on the wheel must be replaced by an authorized Ford dealer.
WARNING: Refer to Tire pressure monitoring system (TPMS) in the Tires, Wheels and Loading chapter for important information. If the tire pressure monitor sensor becomes damaged, it will no longer function.
See also:
Inflating your tires
Safe operation of your vehicle requires that your tires are properly inflated. Remember that a tire can lose up to half of its air pressure without appearing flat. Every day before you drive, che ...
Autolock feature (if enabled)
The autolock feature will lock all the doors when: Х all the doors are closed Х the ignition is on, Х you shift into any gear putting the vehicle in motion, and Х the vehicle attains a speed ...
Parking brake
Apply the parking brake whenever the vehicle is parked. To set the parking brake, press the parking brake pedal down until the pedal stops. The BRAKE warning lamp in the instrument cluste ...