2011 Lincoln MKZ Hybrid Review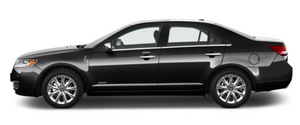 The 2011 Lincoln MKZ Hybrid doesn't scream hybrid. It's not subscribing to any earthmobile movement in any other way than its hybridness, and that's fine, because if you want your hybrid to proclaim its hybrid abilities with just its looks, you have other options. But if you just want some good, clean fuel efficiency and some style, too, then the MKZ Hybrid is your perfect match.
What I liked most about the MKZ Hybrid, which is Lincoln's first hybrid, is it felt solid. It wasn't tinny-sounding when the doors were closed, and it didn't make any squeaks or rattles. The MKZ Hybrid had some luxurious touches including wood trim and some sharp-looking design elements with plenty of chrome. I daresay it's flashy! It left a nice impression on me, and it will on you, too.
This front-wheel-drive midsize sedan has the power to get you where you need to go, but if you're looking for something to drag race, you'll want to look elsewhere. I especially like that this hybrid comes from an American brand and is good-looking, too.
The 2011 MKZ has a starting MSRP of $34,645. My test car had a fancy package on it that bumped the price up to $41,370, including destination and delivery charges.
See also:
Mykey
The MyKey feature allows you to program a restricted driving mode to promote good driving habits. All but one of the keys programmed to the vehicle can be activated as a MyKey . The key will remai ...
Driving through water
If driving through deep or standing water is unavoidable, proceed very slowly. Never drive through water that is higher than the bottom of the wheel rims (for cars) or the bottom of the hubs ...
Electronic stability control (ESC)
Electronic stability control (ESC) may enhance your vehicle's directional stability during adverse maneuvers, for example when cornering severely or avoiding objects in the roadway. ESC operates b ...