2010 Lincoln MKT Review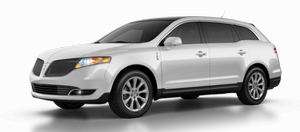 With a powerful engine and seating for seven, the 2010 Lincoln MKT gets a lot of things right. It's a fun-to-drive luxury crossover with a head-turning look, but its family-friendly features need some refining.
I first saw the MKT as a concept car at the 2008 Detroit auto show, so I was excited to finally get behind the wheel of Lincoln's first crossover. The 2010 MKT starts at $44,200 for the base model; my top-of-the-line test car cost $55,885. What I learned during my weeklong test drive is the MKT isn't sure it wants to be a family car. As I drove the MKT I hoped that ultimately it'd be a family-hauling hero, but it fell short.
The MKT's interesting design, EcoBoost engine and three sets of Latch connectors are among the features that could make it a hero to some families. However, its big rear end, not-so-great gas mileage and problems getting to the third row were among the negatives that quickly stacked up as I tested this car.
I did enjoy driving this crossover, and despite its large size it felt athletic. It accelerated like a crazed racehorse out of the gate; I even squealed the tires coming out of the pediatrician's parking lot one day. I drove the MKT to a friend's cabin at a very high altitude and there was never any sense that the MKT couldn't take whatever I threw at it. The brakes were responsive and the steering nimble. However, the turning radius was awful, and parking the MKT was tough because of it (and its length).