Interior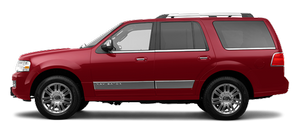 Inside the cabin, big, plush seats welcome the driver and passengers. There's a giant center armrest with storage between the driver and the front passenger seat, as well as one splitting the second-row seats. Up front, the center console sports four cupholders for the incredibly thirsty traveler, but it didn't fit much other stuff. Besides the cavernous center console, there were no smaller cubbies for things like breath mints, change, a cell phone, etc., and that actually left me feeling a bit cramped, even though there's no shortage of head, leg or hip room.
The huge dashboard didn't leave a great impression on anyone during our week with the Navigator. There's something odd in the texture of Lincoln's new interior plastic. It's hard to put my finger on what it is, but it doesn't seem nice enough to be in a pseudo-luxury vehicle Ч though it isn't what I would call cheap, either. My wife immediately voiced her preference for the Cadillac Escalade's passenger seat. We spent considerable time in both SUVs, and her immediate distaste for the Navigator isn't shocking if you compare the two interiors side by side.
There were some highlights on the inside. For one, I loved the retro gauges. They reminded me of my grandfather's Cadillacs of the 1970s and early '80s. Easy to read and extremely distinctive, the gauges make an elegant statement.
The third row was about as cramped as any third row in a large SUV these days, but the power fold option was nifty to watch. You'll probably end up hitting that switch an extra time or two, because it's just that cool.
By far, the best feature was the ability to enter the Navigator with ease via automatic power-extending running boards that remain hidden until a door is opened. This received high marks from my petite mother-in-law during the holiday season, and even I appreciated the resulting shorter step into the driver's seat. They're offered as a $1,095 option on their own, as well as part of a larger option package. I would say it's probably the most useful option I've found in any large SUV, and Lincoln was generous to offer it as a stand-alone option.
See also:
Driver and passenger dual-stage airbag supplemental restraints
The dual-stage airbags offer the capability to tailor the level of airbag inflation energy. A lower, less forceful energy level is provided for more common, moderate-severity impacts. A higher ene ...
Center head restraint
The center head restraint consists of: Х a trimmed energy absorbing foam and structure (1), Х two steel stems (2), Х a guide sleeve adjust/release button (3), Х and a guide sleeve with a pin h ...
Motorcraft part numbers
Refer to scheduled maintenance information for the appropriate intervals for changing the spark plugs. Replace the spark plugs with ones that meet Ford material and design specifications for ...