Autolamp control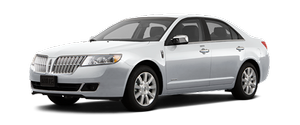 The autolamp system provides light sensitive automatic on-off control of the exterior lights. When selected, the automatic high beam system is active, if equipped and if enabled.
See Auto high beams later in this chapter.
• To turn autolamps on, rotate the control counterclockwise to

.
• To turn autolamps off, rotate the control clockwise to off.

The autolamp system also keeps the lights on for a predetermined amount of time after the ignition is turned off. You can change the amount of time the lamps stay on by using the programming procedure that follows:
Note: With autolamps, your vehicle has a headlamps on with windshield wipers feature. If the windshield wipers are turned on (for a brief period of time), the exterior lamps will turn on with the headlamp control in the autolamp position.
Autolamps - Programmable exit delay
Programmable exit delay allows the length of the autolamp exit delay to be changed.
To program the auto lamp exit time delay:
1. Start with the ignition off and the headlamp control in the autolamp position.
2. Turn the headlamp switch to off.
3. Turn the ignition on and then off.
4. Turn the headlamp switch to the autolamp position. The headlamps will turn on.
5. Wait the desired amount of time for the exit delay you want (up to three minutes), then turn the headlamps off.
See also:
Efficient six-speed transmissions
Lincoln MKT is equipped with two versions of the six-speed SelectShift Automatic™ transmission, both with steering wheel-mounted paddle shifters. The 3.7-liter Ti-VCT V6 uses the 6F-50, and the more ...
Starting the engine with remote start
The remote start label on your transmitter details the engine starting procedure. To start the engine using remote start: Note: Each button press must be done within three seconds of each other ...
HomeLink Wireless Control System
The HomeLink Wireless Control System, located on the driver's visor, provides a convenient way to replace up to three hand-held transmitters with a single built-in device. This feature will ...