Snow tires and chains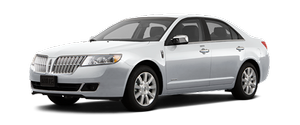 WARNING: Snow tires must be the same size, load index, speed rating as those originally provided by Ford. Use of any tire or wheel not recommended by Ford can affect the safety and performance of your vehicle, which could result in an increased risk of loss of vehicle control, vehicle rollover, personal injury and death.
Additionally, the use of non-recommended tires and wheels could cause steering, suspension, axle or transfer case/power transfer unit failure.
The tires on your vehicle have all-weather treads to provide traction in rain and snow. However, in some climates, you may need to use snow tires and chains. If you need to use chains, it is recommended that steel wheels (of the same size and specifications) be used, as chains may chip aluminum wheels.
Note: The suspension insulation and bumpers will help prevent vehicle damage. Do not remove these components from your vehicle when using snow tires and chains.
Follow these guidelines when using snow tires and chains:
Х If possible, avoid fully loading your vehicle.
Х Use only SAE Class S cables or equivalent on P235/55R18 tires on the front tires only. SAE Class S chains or other conventional link chains may cause damage to the vehicles wheel house and/or body. Use of optional spike spider type traction devices or equivalent is also acceptable.
Х Do not install tire chains, cables, or optional traction devices on the rear tires. This could cause damage to the vehicleТs wheel house or body.
Х Do not use tire chains, cables, or optional traction devices with optional P255/45R19 or 245/45R20 tires.
Х Install tire cables securely, verifying that the tire cables do not touch any wiring, brake lines or fuel lines.
Х Do not exceed 30 mph (48 km/h) with tire cables on your vehicle.
Х Drive cautiously. If you hear the cables rub or bang against your vehicle, stop and retighten the cables. If this does not work, remove the cables to prevent damage to your vehicle.
Х Remove the tire cables when they are no longer needed. Do not use tire cables on dry roads.
See also:
Safety belt system
WARNING: Always drive and ride with your seatback upright and the lap belt snug and low across the hips. WARNING: To reduce the risk of injury, make sure children sit where they can be properly r ...
Improved sync
The next generation of the award-winning SYNC system continues to become easier to use and more robust in its operation. New, simpler screen designs improve the user interface. Larger and bolder fon ...
Habits
Х Smooth, moderate operation can yield up to 10% savings in fuel. Х Steady speeds without stopping will usually give the best fuel economy. Х Idling for long periods of time (greater than one minute ...