Collision warning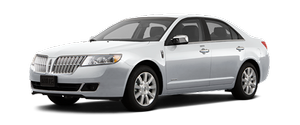 Collision Warning helps prevent common traffic accidents as forward-looking, long-distance radar identifies potential obstacles.
When the danger of a collision is detected, the system warns the driver with an authoritative beep and a simultaneous red warning light projected on the windshield above the instrument panel.
These warnings should be enough to allow the driver to brake before a potential accident. Collision warning also provides emergency brake support which enables harder, quicker deceleration to help drivers stop or reduce speed to lessen the impact of a collision.
See also:
Fold-away mirrors
Fold the side mirrors in carefully when driving through a narrow space, like an automatic car wash. ...
Four-wheel anti-lock brake system (ABS)
Your vehicle is equipped with an anti-lock braking system (ABS). This system helps you maintain steering control during emergency stops by keeping the brakes from locking. Noise from the ABS pump ...
Underbody
Flush the complete underside of your vehicle frequently. Keep body and door drain holes free from packed dirt. ...