Understanding the gearshift positions of the 6–speed automatictransmission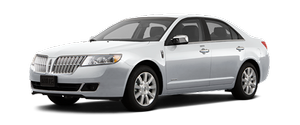 Your vehicle has been designed to improve fuel economy by reducing fuel usage while coasting or decelerating. When you take your foot off the accelerator pedal and the vehicle begins to slow down, the torque converter clutch locks up and aggressively shuts off fuel flow to the engine while decelerating. This fuel economy benefit may be perceived as a light to medium braking sensation when removing your foot from the accelerator pedal.
P (Park)
This position locks the transmission and prevents the front wheels from turning.
To put your vehicle in gear:
1. Press the brake pedal
2. Move the gearshift lever into the desired gear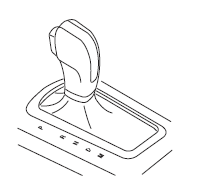 To put your vehicle in P (Park):
1. Come to a complete stop
2. Move the gearshift lever and securely latch it in P (Park)
WARNING: Always set the parking brake fully and make sure the gearshift is latched in P (Park). Switch the ignition off and remove the key whenever you leave your vehicle.
R (Reverse)
With the gearshift lever in R (Reverse), the vehicle will move backward.
Always come to a complete stop before shifting into and out of R (Reverse).
N (Neutral)
With the gearshift lever in N (Neutral), the vehicle can be started and is free to roll. Hold the brake pedal down while in this position.
D (Drive)
The normal driving position for the best fuel economy. Transmission operates in gears one through six.
M (Manual)
With the gearshift lever in M (manual), the driver can change gears up or down as desired. This is called SelectShift Automatic™ transmission (SST) mode. By moving the gearshift lever from drive position D (Drive) to M (Manual) you now have control of selecting the gear you desire using the paddle shifters on the steering wheel.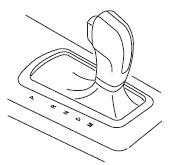 To return to normal D (Drive) position, move the shift lever back from M (manual) to D (Drive). The transmission will operate in gears one through six.
See also:
Adding engine coolant
When adding coolant, make sure it is a 50/50 mixture of engine coolant and distilled water. Add the mixture to the coolant reservoir, when the engine is cool, until the appropriate fill level is o ...
Replacement of intelligent access keys
Note: Your vehicle comes equipped with two intelligent access keys. The intelligent access key functions as both a programmed key that operates the driver door lock, activates intelligent access ...
Engine oil and filter recommendations
Use SAE 5W-20 engine oil Look for this certification trademark. Only use oils certified for gasoline engines by the American Petroleum Institute (API). An oil with this trademark symbol confor ...