Power steering fluid (except ecoboost engine)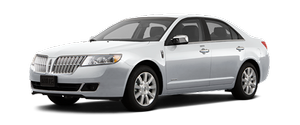 Refer to scheduled maintenance information.
1. Start the engine and let it run until it reaches normal operating temperature (the engine coolant temperature gauge indicator will be near the center of the normal area between H and C).
2. While the engine idles, turn the steering wheel left and right several times.
3. Turn the engine off.
4. Check the fluid level in the reservoir. It should be between the MIN and MAX lines. Do not add fluid if the level is in this range.
5. If the fluid is low, add fluid in small amounts, continuously checking the level until it reaches the range between the MIN and MAX lines. Be sure to put the cap back on the reservoir. Refer to Maintenance product specifications and capacities in this chapter for the proper fluid type.
See also:
Adding engine coolant
When adding coolant, make sure it is a 50/50 mixture of engine coolant and distilled water. Add the mixture to the coolant reservoir, when the engine is cool, until the appropriate fill level is o ...
The Inside
I'm not a fan of all-gray interiors, which seem drab to me — even more so than all-black designs — but that's what our MKZ had. Getting past my own preferences, however, let me appreciate a cabin ...
High fluid level
Fluid levels above the normal operating range may result in transmission failure. An overfill condition of transmission fluid may cause shift and/or engagement concerns and/or possible dam ...