Congratulations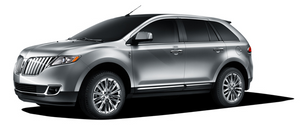 Congratulations on acquiring your new Lincoln. Please take the time to get well acquainted with your vehicle by reading this handbook. The more you know and understand about your vehicle, the greater the safety and pleasure you will derive from driving it.
For more information on Ford Motor Company and its products visit the following website:
Х In the United States: www.ford.com
Х In Canada: www.ford.ca
Х In Mexico: www.ford.com.mx
Х In Australia: www.ford.com.au
Additional owner information is given in separate publications.
This OwnerТs Guide describes every option and model variant available and therefore some of the items covered may not apply to your particular vehicle. Furthermore, due to printing cycles it may describe options before they are generally available.
Remember to pass on the OwnerТs Guide when reselling the vehicle. It is an integral part of the vehicle.
WARNING: Fuel pump shut-off: In the event of an accident this feature will automatically cut off the fuel supply to the engine. It can also be activated through sudden vibration (e.g. collision when parking). To restart your vehicle, refer to Fuel pump shut-off in the Roadside Emergencies chapter.
See also:
Determining if the system is operational
The SRS uses a readiness light in the instrument cluster or a tone to indicate the condition of the system. Refer to Warning lights and chimes in the Instrument Cluster chapter. Routine maintenanc ...
Hilly condition usage
It is recommended that the driver select a lower gear position when ACC is active in situations such as prolonged downhill driving on steep grades (i.e., driving in mountainous areas). In these si ...
Treadwear
The treadwear grade is a comparative rating based on the wear rate of the tire when tested under controlled conditions on a specified government test course. For example, a tire graded 150 would w ...