Export unique (Non–United States/Canada) vehiclespecific information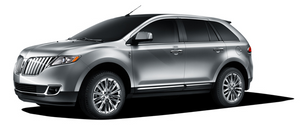 For your particular global region, your vehicle may be equipped with features and options that are different from the features and options that are described in this Owner's Guide. A market unique supplement may be supplied that complements this book. By referring to the market unique supplement, if provided, you can properly identify those features, recommendations and specifications that are unique to your vehicle. This Owner's Guide is written primarily for the U.S. and Canadian Markets.
Features or equipment listed as standard may be different on units built for Export. Refer to this Owner's Guide for all other required information and warnings.
These are some of the symbols you may see on your vehicle.
Vehicle Symbol Glossary

Safety Alert
Fasten Safety Belt

Airbag - Side

Child Seat Tether Anchor

Anti-Lock Brake System

Brake Fluid - Non-Petroleum Based

Stability Control System

Master Lighting Switch

Fog Lamps-Front

Fuel Pump Reset

Windshield Defrost/Demist

See Owner's Guide

Airbag - Front

Child Seat Lower Anchor

Brake System

Parking Brake System

Parking Aid System

Speed Control

Hazard Warning Flasher

Fuse Compartment

Windshield Wash/Wipe

Rear Window Defrost/Demist

Power Windows Front/Rear

Child Safety Door Lock/Unlock

Panic Alarm

Engine Coolant

Do Not Open When Hot

Avoid Smoking, Flames, or Sparks

Explosive Gas

Power Steering Fluid

Service Engine Soon

Passenger Compartment Air Filter
Check Fuel Cap

Power Window Lockout

Interior Luggage Compartment Release

Engine Oil

Engine Coolant Temperat

Battery

Battery Acid

Fan Warning

Maintain Correct Fluid Level

Engine Air Filter

Jack

Low Tire Pressure Warning
See also:
Forward and reverse sensing systems
The forward and reverse sensing system will warn the driver of obstacles within a certain range of the front and rear bumpers. The front sensors will be active when the gearshift is in any posi ...
Information on "T" type tires
"T" type tires have some additional information beyond those of "P" type tires; these differences are described below: T145/80D16 is an example of a tire size. Note: The temporary tire s ...
2011 Lincoln MKZ Hybrid Review
The 2011 Lincoln MKZ Hybrid doesn't scream hybrid. It's not subscribing to any earthmobile movement in any other way than its hybridness, and that's fine, because if you want your hybrid to procla ...