Operating tips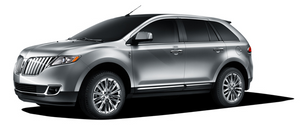 • To reduce fog build-up on the windshield during humid weather, select

(defrost).
• To reduce humidity build-up inside the vehicle: do not drive with the system off or with recirculated air engaged.
• Do not put objects under the front seats that will interfere with the airflow to the back seats.
• Remove any snow, ice or leaves from the air intake area at the base of the windshield.
• To improve the A/C cool down, drive with the windows slightly open for 2–3 minutes after starting the vehicle or until the vehicle has "aired out."
• A small amount of air may be felt from the floor vent regardless of the air distribution setting that is selected.
During extreme high ambient temperatures when idling stationary for extended periods of time in gear, it is recommended to run the A/C in MAX A/C, reduce blower fan speed from the highest setting and put the vehicle's transmission in P (Park) to continue to receive cool air from your A/C system.
For maximum cooling performance (MAX A/C):
1. Press MAX A/C. The system will default to single-zone operation and set the temperature to 60°F (16°C).
2. A/C,
and

will be selected.
3. Fan speed will be determined by the vehicle's internal temperature, but can be adjusted as desired.
To aid in side window defogging/demisting in cold weather:
1. Select

.
2. Select A/C.
3. Adjust the temperature control to maintain comfort.
4. Set the fan to the highest speed.
5. Direct the outer instrument panel vents toward the side windows.
To increase airflow to the outer instrument panel vents, close the vents located in the middle of the instrument panel.
See also:
Fixed code programming
Note: It may be helpful to have another person assist you in programming the transmitter. To program units with fixed code DIP switches, you will need the garage door hand-held transmitter, ...
Unlocking and locking the doors using keyless entry
To unlock the driver's door, enter the factory set 5-digit code or your personal code. Each number must be pressed within five seconds of each other. The interior lamps will illuminate. Note: If t ...
Inspecting your tires and wheel valve stems
Periodically inspect the tire treads for uneven or excessive wear and remove objects such as stones, nails or glass that may be wedged in the tread grooves. Check the tire and valve stems for hole ...