Automatic dimming interior rear view mirror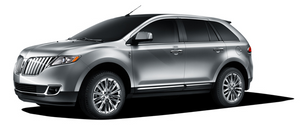 The interior rear view mirror and a driver's side exterior mirror have an auto-dimming function. The electronic day/night mirrors will change from the normal (high reflective) state to the non-glare (darkened) state when bright lights (glare) reach the interior mirror. When the interior mirror detects bright light from behind the vehicle, the interior rear view mirror and the driver's side exterior mirror will automatically adjust (darken) to minimize glare.
The mirrors will automatically return to the normal state whenever the vehicle is placed in R (Reverse) to ensure a bright clear view when backing up.
Do not block the sensors on the front and back of the interior rear view mirror since this may impair proper mirror performance.
Note: A rear center passenger and/or raised rear center headrest (if equipped) may also block the light from reaching the sensor.
Do not clean the housing or glass of any mirror with harsh abrasives, fuel or other petroleum-based cleaning products.
See also:
Coolant refill capacity
To find out how much fluid your vehicle's cooling system can hold, refer to Maintenance product specifications and capacities in this chapter. Fill your engine coolant reservoir as outlined previ ...
Replacing fog lamp bulbs
1. Make sure the fog lamp switch is in the off position. 2. Rotate the harness/bulb assembly counterclockwise, to remove from the fog lamp. 3. Carefully disconnect the bulb from the harness ...
Performance
The most striking aspect of the MKS' performance is its steering. From the looks and the sheer size of the car, I was expecting a driving experience akin to yachting, not carving corners. I was wr ...