Overview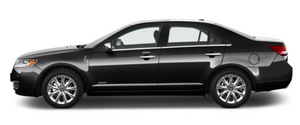 Lincoln introduced its first hybrid - the new 2011 Lincoln MKZ Hybrid - a premium midsize car poised to be the most fuel-efficient luxury sedan in America. Ford Motor Company - America's largest domestic hybrid seller - is further broadening its aggressive electrification plan and second generation of hybrid technology with the new Lincoln MKZ Hybrid. The vehicle was revealed at the 2010 New York International Auto Show.
"Lincoln's hallmarks are design, technology and comfort. Now, Lincoln also delivers the best fuel efficiency of any luxury sedan in America," said Mark Fields, Ford's president of The Americas.
Lincoln's first-ever hybrid is expected to deliver at least 41 miles per gallon in the city when it goes on sale this fall.
The new premium midsize sedan hybrid joins Ford Motor Company's growing lineup of hybrids, including the Ford Fusion Hybrid - 2010 North American Car of the Year and America's most fuel-efficient sedan - plus the Ford Escape Hybrid and Mercury Milan and Mariner Hybrids.
Introduction of the new Lincoln MKZ Hybrid also complements Ford's aggressive global electrification plan. Ford is introducing five new electrified vehicles by 2013. They include the Transit Connect Electric in late 2010, the Focus Electric in 2011, a next-generation hybrid electric vehicle and a plug-in hybrid electric vehicle (PHEV) in 2012, followed by another next-generation hybrid electric vehicle in 2013.
The Lincoln MKZ Hybrid's projected fuel economy tops its nearest competitor - the 2010 Lexus HS 250h - by 6 mpg. It also trumps the Lexus with room for one more passenger and more standard luxury and segment-exclusive safety features.
"Today's luxury customers do not want to make sacrifices. Lincoln has found a way to deliver a luxury sedan with the comforts they expect, the technology they want and the environmental responsibility society demands," said Derrick Kuzak, Ford's group vice president, Global Product Development.
The 2011 Lincoln MKZ Hybrid uses Ford's second-generation hybrid technology - the 2.5-liter Atkinson-cycle I-4 hybrid engine, named one of Ward's 2010 "10 Best Engines."
The system combines the best attributes of the gasoline engine and electric battery-driven motors to deliver optimal performance and fuel economy.
Industry-leading fuel economy comes without sacrificing power. The combined gasoline engine and electric motor provide 191 net horsepower. Plus, the pure electric mode on the Lincoln MKZ Hybrid extends to 47 mph - compared with the Lexus HS 250h battery-only mode, which reaches just 25 mph.
See also:
Preparing to tow
Use the proper equipment for towing a trailer and make sure it is properly attached to your vehicle. Contact your authorized dealer or a reliable trailer dealer as soon as possible if you require ...
Disengaging adaptive cruise control
Press the brake pedal or press CNCL to disengage the adaptive cruise control. The last set speed will be displayed with a strikethrough. Disengaging the adaptive cruise control will not erase you ...
Smart unlocks
The smart unlock feature is intended to prevent you from unintentionally locking your IA key inside your vehicle's passenger compartment or rear cargo area. When you lock your vehicle using the ...