Wheel lug nut torque specifications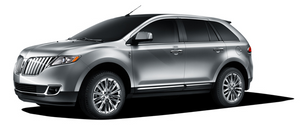 Retighten the lug nuts to the specified torque within 100 miles (160 km) after any wheel disturbance (rotation, flat tire, wheel removal, etc.).

WARNING: When a wheel is installed, always remove any corrosion, dirt or foreign materials present on the mounting surfaces of the wheel or the surface of the wheel hub, brake drum or brake disc that contacts the wheel. Ensure that any fasteners that attach the rotor to the hub are secured so they do not interfere with the mounting surfaces of the wheel. Installing wheels without correct metal-to-metal contact at the wheel mounting surfaces can cause the wheel nuts to loosen and the wheel to come off while the vehicle is in motion, resulting in loss of control.
Note: Inspect the wheel pilot hole (1) and mounting surface prior to installation. Remove any visible corrosion or loose particles.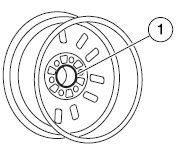 See also:
Event Data Recording
This vehicle is equipped with an event data recorder (EDR). The main purpose of an EDR is to record, in certain crash or near crash-like situations, such as an airbag deployment or hitting a roa ...
Tire pressure monitoring system (TPMS)
Each tire, including the spare (if provided), should be checked monthly when cold and inflated to the inflation pressure recommended by the vehicle manufacturer on the vehicle placard or tir ...
Checking engine coolant
The concentration and level of engine coolant should be checked at the intervals listed in scheduled maintenance information. The coolant concentration should be maintained at 50/50 coolant and di ...