Safety and environment protection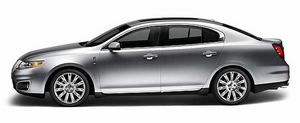 Warning symbols in this guide
How can you reduce the risk of personal injury to yourself or others? In this guide, answers to such questions are contained in comments highlighted by the warning triangle symbol. These comments should be read and observed.
Warning symbols on your vehicle

When you see this symbol, it is imperative that you consult the relevant section of this guide before touching or attempting adjustment of any kind.
Protecting the environment

We must all play our part in protecting the environment. Correct vehicle usage and the authorized disposal of waste, cleaning and lubrication materials are significant steps toward this aim. Information in this respect is highlighted in this guide with the tree symbol.
See also:
Preparing your vehicle
When the battery is disconnected or a new battery is installed, the automatic transmission must relearn its shift strategy. As a result, the transmission may have firm and/or soft shifts. This ope ...
HomeLink Wireless Control System
The HomeLink Wireless Control System, located on the driver's visor, provides a convenient way to replace up to three hand-held transmitters with a single built-in device. This feature wil ...
Infant and/or toddler seats
Use a safety seat that is recommended for the size and weight of the child. When installing a child safety seat: • Review and follow the information presented in the Airbag supplemental re ...