Operating tips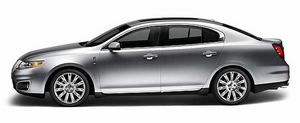 • To reduce fog build-up on the windshield during humid weather, select

(defrost).
• To reduce humidity build-up inside the vehicle, do not drive with the system off, or with

(recirculated air) engaged and A/C off.
• Do not put objects under the front seats that will interfere with the airflow to the back seats.
• Remove any snow, ice or leaves from the air intake area at the base of the windshield.
• To improve the A/C cool down, drive with the windows slightly open for 2-3 minutes after start up or until the vehicle has been "aired out." • A small amount of air may be felt from the floor vent regardless of the air distribution setting that is selected.
During extreme high ambient temperatures when idling stationary for extended periods of time in gear, it is recommended to run the A/C in the MAX A/C mode, reduce blower fan speed from the highest setting and put the vehicle's transmission in P (Park) to continue to receive cool air from your A/C system.
For maximum cooling performance:
• Automatic operation:
1. Press AUTO for full automatic operation.
2. Do not override A/C or

(recirculated air).
3. Set the temperature to 60°F (16°C).
• Manual operation:
1. Select MAX A/C.
2. Select

(panel) or

(panel/floor).
3. Select

(recirculated air) to provide colder airflow.
4. Set the temperature to 60°F (16°C).
5. Set highest fan speed initially, then adjust to maintain comfort.
To aid in side window defogging/demisting in cold weather:
1. Select

.
2. Select A/C.
3. Adjust the temperature control to maintain comfort.
4. Set the fan speed to the highest setting.
5. Direct the outer instrument panel vents towards the side windows.
To increase airflow to the outer instrument panel vents, close the vents located in the middle of the instrument panel.
See also:
Heated outside mirrors
Both mirrors are heated automatically to remove ice, mist and fog when the rear window defrost is activated. Note: With the Auto dimming feature, the mirror glass is thicker and will ta ...
AWD systems (if equipped)
AWD uses all four wheels to power the vehicle. This increases traction, enabling you to drive over terrain and road conditions that a conventional two-wheel drive vehicle cannot. ...
Rear window wiper/washer controls
For rear wiper operation, rotate the rear window wiper and washer control to the desired position. Select: 2 — Intermittent operation (shortest pause between wipes). 1 — Intermittent o ...