Operating tips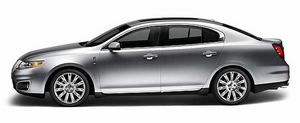 • To reduce fog build-up on the windshield during humid weather, select

(defrost).
• To reduce humidity build-up inside the vehicle, do not drive with the system off, or with

(recirculated air) engaged and A/C off.
• Do not put objects under the front seats that will interfere with the airflow to the back seats.
• Remove any snow, ice or leaves from the air intake area at the base of the windshield.
• To improve the A/C cool down, drive with the windows slightly open for 2-3 minutes after start up or until the vehicle has been "aired out." • A small amount of air may be felt from the floor vent regardless of the air distribution setting that is selected.
During extreme high ambient temperatures when idling stationary for extended periods of time in gear, it is recommended to run the A/C in the MAX A/C mode, reduce blower fan speed from the highest setting and put the vehicle's transmission in P (Park) to continue to receive cool air from your A/C system.
For maximum cooling performance:
• Automatic operation:
1. Press AUTO for full automatic operation.
2. Do not override A/C or

(recirculated air).
3. Set the temperature to 60°F (16°C).
• Manual operation:
1. Select MAX A/C.
2. Select

(panel) or

(panel/floor).
3. Select

(recirculated air) to provide colder airflow.
4. Set the temperature to 60°F (16°C).
5. Set highest fan speed initially, then adjust to maintain comfort.
To aid in side window defogging/demisting in cold weather:
1. Select

.
2. Select A/C.
3. Adjust the temperature control to maintain comfort.
4. Set the fan speed to the highest setting.
5. Direct the outer instrument panel vents towards the side windows.
To increase airflow to the outer instrument panel vents, close the vents located in the middle of the instrument panel.
See also:
Create a MyKey
To program MyKey on one of the keys programmed to the vehicle, put the intelligent access key in the backup slot with brand logo facing up; refer to Starting in the Driving chapter for the locatio ...
Service recommendations
To help you service your vehicle, we provide scheduled maintenance information which makes tracking routine service easy. If your vehicle requires professional service, your authorized dealer can ...
Vehicles sold in Canada : Using roadside assistance
Complete the roadside assistance identification card and place it in your wallet for quick reference. In Canada, the card is found in the Warranty Guide in the glove box. Canadian Roadside cove ...