Vertical aim adjustment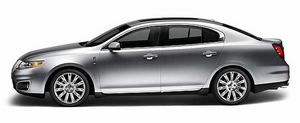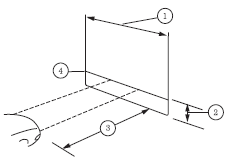 1. Park the vehicle directly in front of a wall or screen on a level surface, approximately 25 feet (7.6 meters) away.
Х (1) 8 feet (2.4 meters)
Х (2) Center height of lamp to ground
Х (3) 25 feet (7.6 meters)
Х (4) Horizontal reference line
2. Measure the height of the headlamp bulb center from the ground and mark an 8 foot (2.4 meter) horizontal reference line on the vertical wall or screen at this height (a piece of masking tape works well). The center of the lamp is marked by a 3 mm circle on the headlamp lens.
3. Turn on the low beam headlamps to illuminate the wall or screen and open the hood.
To see a clearer light pattern for adjusting, you may want to block the light from one headlamp while adjusting the other.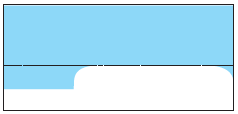 For vehicles with halogen headlamps:
On the wall or screen you will observe a flat zone of high intensity light located at the top of the right hand portion of the beam pattern. If the top edge of the high intensity light zone is not at the horizontal reference line, the headlamp will need to be adjusted.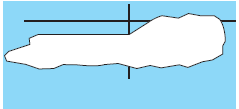 For vehicles with HID headlamps:
There is a distinct cut-off (change from light to dark) in the left portion of the beam pattern. The top edge of this cut-off should be positioned two inches (51 mm) below the horizontal reference line.
4. Locate the vertical adjuster on each headlamp. Using a Phillips #2 screwdriver, turn the adjuster either clockwise (to adjust down) or counterclockwise (to adjust up).
5. Close the hood and turn off the lamps.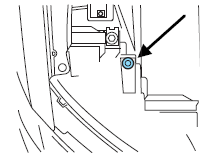 HORIZONTAL AIM IS NOT REQUIRED FOR THIS VEHICLE AND IS NON-ADJUSTABLE.
See also:
Blind spot mirrors (if equipped)
Your vehicle may be equipped with blind spot mirrors or a blind spot information system. Refer to Blind spot mirrors or Blind spot information system (BLIS ) with cross traffic alert (CTA) in the ...
Battery
Your vehicle is equipped with a Motorcraft maintenance-free battery which normally does not require additional water during its life of service. Note: If your battery has a cover/shield, make ...
Hitches
Do not use a hitch that clamps onto the vehicleТs bumper or attaches to the axle. You must distribute the load in your trailer so that 10Ц15% of the total weight of the trailer is on the tongue. ...