Multi-function lever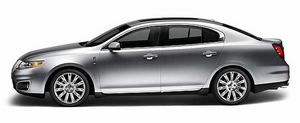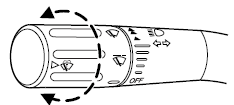 Windshield wiper: Rotate the end of the control away from you to increase the speed of the wipers; rotate toward you to decrease the speed of the wipers.
Rain-sensing wipers (if equipped): The rain-sensing wipers will automatically activate when moisture is present on the windshield and the multi-function switch is set to one of five auto/interval moisture sensitivity settings. Rotate the end of the control toward the windshield to increase the sensitivity. The speed of the rain-sensitive wipers will vary based on the amount of moisture detected on the windshield and the auto/interval setting. There are no interval (intermittent wipe) settings on vehicles with rain-sensing wipers. The wipers will continue to wipe as long as the presence of moisture is detected on the windshield. More or less wiping may occur depending on humidity, mist or light rain, or road spray.
Keep the outside of the windshield clean, especially the area around the rear view mirror where the sensor is located or rain sensor performance may be affected.
Note: During winter driving conditions with ice, snow or a salty road mist, inconsistent or unexpected wiping or smearing may occur. In these conditions, you can lower the sensitivity to reduce the amount of smearing or override the feature by selecting low- or high-speed wiping or turning the wiper system off.
Note: The wipers must be turned off before entering a car wash.

Windshield washer: Press the end of the stalk:
Х briefly: causes a single swipe of the wipers without washer fluid.
Х a quick press and hold: the wipers will swipe three times with washer fluid.
Х a long press and hold: the wipers and washer fluid will be activated for up to ten seconds.
Courtesy wipe feature: One extra wipe will occur a few seconds after washing the front window to clear any excess washer fluid remaining on the windshield.
Note: Do not operate the washer when the washer reservoir is empty.
This may cause the washer pump to overheat. Check the washer fluid level frequently. Do not operate the wipers when the windshield is dry.
This may scratch the glass, damage the wiper blades and cause the wiper motor to burn out. Before operating the wiper on a dry windshield, always use the windshield washer. In freezing weather, be sure the wiper blades are not frozen to the windshield before operating the wipers.
See also:
Interior mirror
The interior rearview mirror has two pivot points on the support arm which lets you adjust the mirror up or down and from side to side. WARNING: Do not adjust the mirror while the vehicle is in m ...
Autolock feature (if enabled)
The autolock feature will lock all the doors when: Х all the doors are closed Х the ignition is on, Х you shift into any gear putting the vehicle in motion, and Х the vehicle attains a speed ...
Troubleshooting
...