Rolling code programming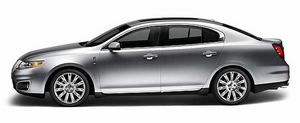 Note: If you do not follow the time-sensitive instructions, the device will time out and you will have to repeat the complete procedure.
Note: It may be helpful to have another person assist you in programming the transmitter.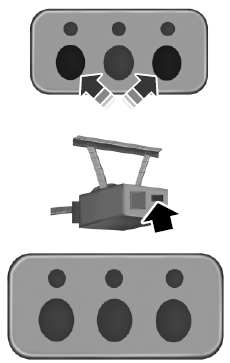 1. Switch the ignition on.
2. Press and hold the outer two buttons for 1Ц2 seconds, then release.
Note: You may need a ladder to reach the unit and you may need to remove the cover or lamp lens.
Note: If you cannot locate the learn button, refer to the Owner Manual of your garage door opener or call the toll-free help line on 1-866-572-2728.
3. Press the learn button on the garage door opener motor.
Note: You will have 10Ц30 seconds to complete the following steps.
4. Return to your car.
5. Press and hold the function button you would like to use to control the garage door. You may need to hold the button from 5Ц20 seconds, during which time the selected button LED lamp will flash slowly.
6. When the garage door moves, release the button within one second.
The LED lamp will flash rapidly until programming is complete.
7. Press and release the button again. The garage door should move, confirming that programming is successful. If your garage door does not operate, repeat the previous steps.
The LED lamp above the selected button will illuminate to confirm that the system is responding to the button command.
To program another rolling code device, repeat steps one through six substituting a different function button in step four.
See also:
Ordering additional ownerТs literature
To order the publications in this portfolio, contact Helm, Incorporated at: HELM, INCORPORATED P.O. Box 07150 Detroit, Michigan 48207 Or to order a free publication catalog, call toll free: 1 ...
Satellite Radio
Satellite radio is available only with a valid SIRIUS radio subscription. Check with your authorized dealer for availability. SIRIUS: Press repeatedly to access satellite radio mode, if equipped. ...
Six Disc CD/MP3 Player
CD: Press to enter CD/MP3 mode. If a disc is already loaded into the system, CD/MP3 play will begin where it ended last. If no CD is loaded, NO DISC will appear in the display. LOAD: Use to load ...