Vehicle sensitive mode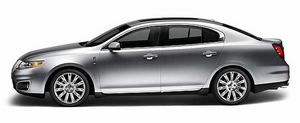 This is the normal retractor mode, which allows free shoulder belt length adjustment to your movements and locking in response to vehicle movement. For example, if the driver brakes suddenly or turns a corner sharply, or the vehicle receives an impact of approximately 5 mph (8 km/h) or more, the combination safety belts will lock to help reduce forward movement of the driver and passengers.
In addition, the retractor is designed to lock if the webbing is pulled out too quickly. If this occurs, let the belt retract slightly and pull webbing out again in a slow and controlled manner.
See also:
Recycled engine coolant
Ford Motor Company does NOT recommend the use of recycled engine coolant since a Ford-approved recycling process is not yet available. Used engine coolant should be disposed of in an appropriate ...
Instrument cluster with standard measure shown– metric similar
Warning lights can alert you to a vehicle condition that may become serious enough to cause extensive repairs. A warning light may illuminate when a problem exists with one of your vehicle's fun ...
Tire replacement requirements
Your vehicle is equipped with tires designed to provide a safe ride and handling capability. WARNING: Only use replacement tires and wheels that are the same size, load index, speed rating and ty ...