One-time disable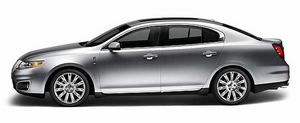 If at any time the driver/front passenger quickly buckles then unbuckles the safety belt for that seating position, the Belt-Minder is disabled for the current ignition cycle. The Belt-Minder feature will enable during the same ignition cycle if the occupant buckles and remains buckled for approximately 30 seconds. Confirmation is not given for the one-time disable.
See also:
Tire rotation
Rotating your tires at the recommended interval (as indicated in the Scheduled Maintenance chapter) will help your tires wear more evenly, providing better tire performance and longer tire life. ...
Owner checks and services
Certain basic maintenance checks and inspections should be performed by the owner or a service technician at the intervals indicated. Service information and supporting specifications are provided ...
Trailer towing
Trailer towing puts additional loads on your vehicle's engine, transmission, axle, brakes, tires and suspension. For your safety and to maximize vehicle performance, be sure to use the proper equi ...