MKZ Engines, Transmissions and Drive Systems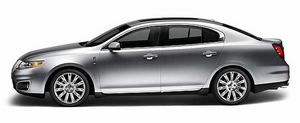 The 2013 Lincoln MKZ offers three distinct powertrains. The standard 2.0-liter four-cylinder EcoBoost® delivers the performance of a traditional V6 along with expected segment-leading fuel economy that is at least 3 mpg better than the closest competitor. This engine delivers a projected 20-percent increase in highway fuel economy versus the 2012 MKZ.
Emphasizing performance and efficiency, the optional 3.7-liter V6 produces significantly more power (37 horsepower and 28 lb.-ft. of torque) than the previous Lincoln MKZ V6 while improving fuel economy approximately 5 percent.
Maximizing fuel efficiency, the optional 2.0-liter four-cylinder hybrid powertrain is expected to enable the 2013 MKZ Hybrid to remain North America's most fuel-efficient premium sedan. The 2012 MKZ Hybrid is rated at 41 city mpg, 36 highway mpg.
Non-hybrid models utilize a six-speed automatic transmission. Standard paddle shifters mounted behind the steering wheel add to the performance driving experience of the Lincoln MKZ.
Improving grip on slippery roads, the available all-wheel-drive (AWD) system anticipates and adjusts the power delivery to the front and rear axles in as little as 16 milliseconds, faster than the blink of an eye.
See also:
3.5-liter ecoboost V6
Nine out of 10 MKT retail customers opt for twin-turbo 3.5-liter EcoBoost V6, an engine that provides V8 performance with the fuel economy of a V6. In terms of horsepower from optional engines, the ...
Hilly condition usage
It is recommended that the driver select a lower gear position when ACC is active in situations such as prolonged downhill driving on steep grades (i.e., driving in mountainous areas). In these si ...
Four-wheel anti-lock brake system (ABS)
Your vehicle is equipped with an anti-lock braking system (ABS). This system helps you maintain steering control during emergency stops by keeping the brakes from locking. The ABS operates by dete ...