MKZ Engines, Transmissions and Drive Systems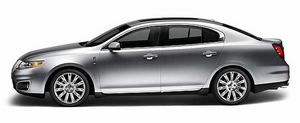 The 2013 Lincoln MKZ offers three distinct powertrains. The standard 2.0-liter four-cylinder EcoBoost® delivers the performance of a traditional V6 along with expected segment-leading fuel economy that is at least 3 mpg better than the closest competitor. This engine delivers a projected 20-percent increase in highway fuel economy versus the 2012 MKZ.
Emphasizing performance and efficiency, the optional 3.7-liter V6 produces significantly more power (37 horsepower and 28 lb.-ft. of torque) than the previous Lincoln MKZ V6 while improving fuel economy approximately 5 percent.
Maximizing fuel efficiency, the optional 2.0-liter four-cylinder hybrid powertrain is expected to enable the 2013 MKZ Hybrid to remain North America's most fuel-efficient premium sedan. The 2012 MKZ Hybrid is rated at 41 city mpg, 36 highway mpg.
Non-hybrid models utilize a six-speed automatic transmission. Standard paddle shifters mounted behind the steering wheel add to the performance driving experience of the Lincoln MKZ.
Improving grip on slippery roads, the available all-wheel-drive (AWD) system anticipates and adjusts the power delivery to the front and rear axles in as little as 16 milliseconds, faster than the blink of an eye.
See also:
All-wheel drive
All-wheel drive is standard with the twin-turbo 3.5-liter V6. In good weather over smooth roads at modest speeds - when AWD is not needed - the system intelligently routes power only to the front wh ...
Heated seats
WARNING: Persons who are unable to feel pain to the skin because of advanced age, chronic illness, diabetes, spinal cord injury, medication, alcohol use, exhaustion, or other physical conditions ...
Running out of fuel
If you have run out of fuel and need to refill the vehicle with a portable fuel container, see Running out of fuel in the Maintenance and Specifications chapter for proper fuel filling method usin ...