Information on "T" type tires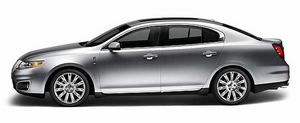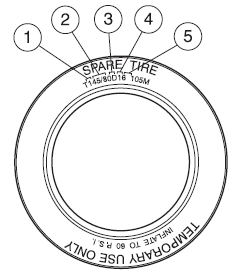 "T" type tires have some additional information beyond those of "P" type tires; these differences are described below:
T145/80D16 is an example of a tire size.
Note: The temporary tire size for your vehicle may be different from this example. Tire Quality Grades do not apply to this type of tire.
1. T: Indicates a type of tire, designated by the Tire and Rim Association (T&RA), that is intended for temporary service on cars, SUVs, minivans and light trucks.
2. 145: Indicates the nominal width of the tire in millimeters from sidewall edge to sidewall edge. In general, the larger the number, the wider the tire.
3. 80: Indicates the aspect ratio which gives the tire's ratio of height to width. Numbers of 70 or lower indicate a short sidewall.
4. D: Indicates a "diagonal" type tire.
R: Indicates a "radial" type tire.
5. 16: Indicates the wheel or rim diameter in inches. If you change your wheel size, you will have to purchase new tires to match the new wheel diameter.
See also:
Ordering additional owner's literature
To order the publications in this portfolio, contact Helm, Incorporated at: HELM, INCORPORATED P.O. Box 07150 Detroit, Michigan 48207 Or to order a free publication catalog, call toll free: 1 ...
How does the airbag supplemental restraint system work?
The airbag SRS is designed to activate when the vehicle sustains longitudinal deceleration sufficient to cause the sensors to close an electrical circuit that initiates airbag inflation. The ...
Sounding a panic alarm
Press to activate the alarm. The horn will sound and the turn lamps will flash for a maximum of three minutes. Press again or turn the ignition to the on position to deactivate, or wait for the ...