Information on "T" type tires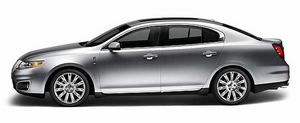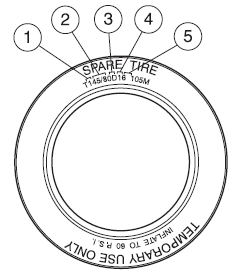 "T" type tires have some additional information beyond those of "P" type tires; these differences are described below:
T145/80D16 is an example of a tire size.
Note: The temporary tire size for your vehicle may be different from this example. Tire Quality Grades do not apply to this type of tire.
1. T: Indicates a type of tire, designated by the Tire and Rim Association (T&RA), that is intended for temporary service on cars, SUVs, minivans and light trucks.
2. 145: Indicates the nominal width of the tire in millimeters from sidewall edge to sidewall edge. In general, the larger the number, the wider the tire.
3. 80: Indicates the aspect ratio which gives the tire's ratio of height to width. Numbers of 70 or lower indicate a short sidewall.
4. D: Indicates a "diagonal" type tire.
R: Indicates a "radial" type tire.
5. 16: Indicates the wheel or rim diameter in inches. If you change your wheel size, you will have to purchase new tires to match the new wheel diameter.
See also:
Exterior
It certainly wasn't the MKX's controversial looks that held me back. I like the large grille Lincoln has added to its vehicles; on larger models like the MKX, it almost looks natural. One of my ...
Cell phone use
The use of Mobile Communications Equipment has become increasingly important in the conduct of business and personal affairs. However, drivers must not compromise their own or others' safety when ...
Triggering the anti-theft system
The armed system will be triggered if: • Any door, the hood or the trunk is opened without using the door key, keypad or the remote entry transmitter portion of your IKT. • The ignition is turned ...