Location of the tire label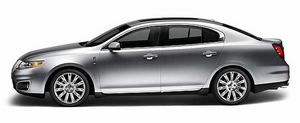 You will find a Tire Label containing tire inflation pressure by tire size and other important information located on the B-Pillar or the edge of the driver's door. Refer to the payload description and graphic in the Vehicle loading section.
See also:
Checking automatic transmission fluid at normal operating temperature (140°F-158°F [60°C-70°C])
Automatic transmission fluid expands when warmed. To obtain an accurate fluid check, drive the vehicle until it is warmed up (approximately 20 miles [30 km]) until the engine coolant gauge indic ...
Congratulations
Congratulations on acquiring your new Lincoln. Please take the time to get well acquainted with your vehicle by reading this handbook. The more you know and understand about your vehicle, the grea ...
2009 Lincoln MKS Review
When I was a tween, my older brother had a late-1960s Ford LTD. It was gold, HUGE in a sort of exaggerated way, and it had an old-school charm and soulfulness about it that was unforgettable. I ha ...