Snow tires and chains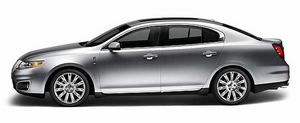 The original equipment tires on your vehicle have an all-weather tread design to provide traction, handling, and braking performance in year-round driving. You may install snow tires for improved traction when driving in areas with sustained periods of snow or icy driving conditions.
WARNING: If you choose to install snow tires on your vehicle, they must be the same size, construction, and load range as the original tires listed on the tire placard, and they must be installed on all four wheels. Mixing tires of different size or construction on your vehicle can adversely affect your vehicle's handling and braking, and may lead to loss of vehicle control.
WARNING: Do not use snow chains or cables on this vehicle as they may cause damage to your vehicle which may lead to loss of vehicle control.
See also:
Torque vectoring control
Drivers are most likely to notice Lincoln's new Torque Vectoring Control (TVC) system when Lincoln Drive Control is set to Sport Mode. TVC helps the Lincoln MKS drive through corners with greater ba ...
Tire rotation
Rotating your tires at the recommended interval (as indicated in the Scheduled Maintenance chapter) will help your tires wear more evenly, providing better tire performance and longer tire life. ...
Lamp assembly condensation
Exterior lamps are vented to accommodate normal changes in pressure. Condensation can be a natural by-product of this design. When moist air enters the lamp assembly through the vents, there is a ...