Positions of the ignition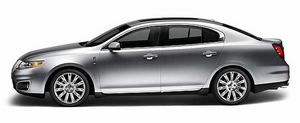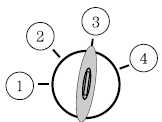 1. Off— locks the gearshift lever and allows key removal. This position also shuts the engine and all electrical accessories off.
Note:
In order to switch off the engine while the vehicle is in motion, shift to neutral and use the brakes to bring the vehicle to a safe stop.
After the vehicle has stopped, turn the engine off and shift into park.
Then, turn the key to the accessory or off position.
2. Accessory— allows the electrical accessories such as the radio to operate while the engine is not running.
3. On— all electrical circuits operational. Warning lights illuminated. Key position when driving.
4. Start— cranks the engine. Release the key as soon as the engine starts.
Note: Do not store the key in the ignition after the vehicle is turned off and you have left the vehicle. This could cause a drain on the battery.
See also:
Keyless entry keypad procedure
1. Turn the ignition to the off position. 2. Close all the doors. 3. Enter factory–set 5–digit entry code. 4. Press and hold the 3 • 4. While holding the 3 • 4, press and release the 7 • ...
Seat-mounted side airbag system
WARNING: Do not place objects or mount equipment on or near the airbag cover on the side of the seatbacks of the front seats or in front seat areas that may come into contact with a deploying ai ...
Touchscreen functions
Temperature– Press the arrows on the left side of the screen to increase/decrease the airflow temperature for the driver side of the vehicle. This control also adjusts the passenger side te ...