Positions of the ignition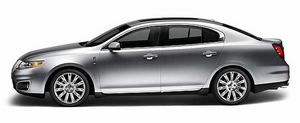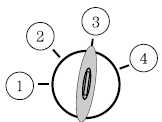 1. Off— locks the gearshift lever and allows key removal. This position also shuts the engine and all electrical accessories off.
Note:
In order to switch off the engine while the vehicle is in motion, shift to neutral and use the brakes to bring the vehicle to a safe stop.
After the vehicle has stopped, turn the engine off and shift into park.
Then, turn the key to the accessory or off position.
2. Accessory— allows the electrical accessories such as the radio to operate while the engine is not running.
3. On— all electrical circuits operational. Warning lights illuminated. Key position when driving.
4. Start— cranks the engine. Release the key as soon as the engine starts.
Note: Do not store the key in the ignition after the vehicle is turned off and you have left the vehicle. This could cause a drain on the battery.
See also:
Operating the HomeLink Wireless Control System
To operate, simply press and release the appropriate HomeLink button. Activation will now occur for the trained product (garage door, gate operator, security system, entry door lock, or hom ...
Replacing the battery
The intelligent access key (IA key) uses one coin type three-volt lithium battery CR2032 or equivalent. To replace the battery: 1. Remove the backup key from the transmitter, then twist a th ...
Vertical aim adjustment
1. Park the vehicle directly in front of a wall or screen on a level surface, approximately 25 feet (7.6 meters) away. • (1) 8 feet (2.4 meters) • (2) Center height of lamp to ground • (3) 25 ...