Positions of the ignition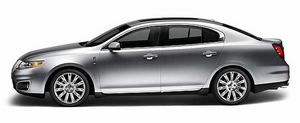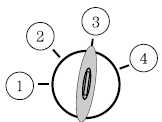 1. Off— locks the gearshift lever and allows key removal. This position also shuts the engine and all electrical accessories off.
Note:
In order to switch off the engine while the vehicle is in motion, shift to neutral and use the brakes to bring the vehicle to a safe stop.
After the vehicle has stopped, turn the engine off and shift into park.
Then, turn the key to the accessory or off position.
2. Accessory— allows the electrical accessories such as the radio to operate while the engine is not running.
3. On— all electrical circuits operational. Warning lights illuminated. Key position when driving.
4. Start— cranks the engine. Release the key as soon as the engine starts.
Note: Do not store the key in the ignition after the vehicle is turned off and you have left the vehicle. This could cause a drain on the battery.
See also:
Audio system warranty and service
Refer to the Warranty Guide for audio system warranty information. If service is necessary, see your dealer or qualified technician. ...
Changing the tires
If you get a flat tire while driving, do not apply the brake heavily. Instead, gradually decrease your speed. Hold the steering wheel firmly and slowly move to a safe place on the side of the roa ...
Replacing rear brake/tail/turn and sidemarker lamp bulbs
The brake/tail/turn/side marker lamp and backup bulbs are located in the tail lamp assembly. Follow the same steps to replace the bulbs. Note: Your vehicle is equipped with a tail lamp assembly c ...