Positions of the ignition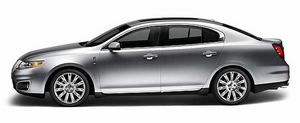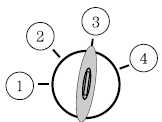 1. Off— locks the gearshift lever and allows key removal. This position also shuts the engine and all electrical accessories off.
Note:
In order to switch off the engine while the vehicle is in motion, shift to neutral and use the brakes to bring the vehicle to a safe stop.
After the vehicle has stopped, turn the engine off and shift into park.
Then, turn the key to the accessory or off position.
2. Accessory— allows the electrical accessories such as the radio to operate while the engine is not running.
3. On— all electrical circuits operational. Warning lights illuminated. Key position when driving.
4. Start— cranks the engine. Release the key as soon as the engine starts.
Note: Do not store the key in the ignition after the vehicle is turned off and you have left the vehicle. This could cause a drain on the battery.
See also:
MyKey restricted features
Standard settings – these settings cannot be changed • Belt-Minder cannot be disabled. The audio system will be muted whenever Belt-Minder is activated until the safety belts are buckled. Refer ...
Cooled seats
The cooled seats will only function when the engine is running. To operate the cooled seats: Press the cooled seat symbol to cycle through the various cooling settings and off. Cooler settin ...
Windows and wiper blades
The windshield, rear and side windows and the wiper blades should be cleaned regularly. If the wipers do not wipe properly, substances on the vehicle's glass or the wiper blades may be the cause. ...