Starting the engine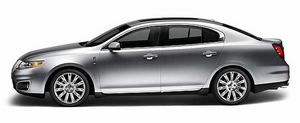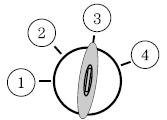 1. Turn the key to 3 (on) without turning the key to 4 (start). If there is difficulty in turning the key, rotate the steering wheel until the key turns freely. This condition may occur when:
Х the front wheels are turned
Х a front wheel is against the curb
2. Turn the key to 4 (start), then release the key as soon as the engine begins cranking. Your vehicle has a computer assisted cranking system that assists in starting the engine. After releasing the key from the 4 (start) position, the engine may continue cranking for up to 10 seconds or until the vehicle starts.
Note: Cranking may be stopped at any time by turning the key to the off position
3. After idling for a few seconds, release the parking brake, apply the brake, shift into gear and drive.
Note: If the engine does not start on the first try, turn the key to the off position, wait 10 seconds and try Step 2 again. If the engine still fails to start, press the accelerator to the floor and try Step 2 again, keeping the accelerator on the floor until the engine begins to accelerate above cranking speeds; this will allow the engine to crank with the fuel shut off in case the engine is flooded with fuel.
See also:
Adjusting the front power seat
WARNING: Never adjust the driverТs seat or seatback when the vehicle is moving. WARNING: Do not pile cargo higher than the seatbacks to reduce the risk of injury in a collision or sudden stop. W ...
Treadwear
The treadwear grade is a comparative rating based on the wear rate of the tire when tested under controlled conditions on a specified government test course. For example, a tire graded 150 would w ...
Instrument panel/interior trim and cluster lens
Clean the instrument panel, interior trim areas and cluster lens with a clean, damp, white cotton cloth, then use a clean and dry white cotton cloth to dry these areas. Х Avoid cleaners or poli ...