Checking the engine oil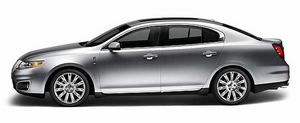 Refer to the scheduled maintenance information for the appropriate intervals for checking the engine oil.
1. Make sure the vehicle is on level ground.
2. Turn the engine off and wait 15 minutes for the oil to drain into the oil pan.
3. Set the parking brake and ensure the gearshift is securely latched in P (Park).
4. Open the hood. Protect yourself from engine heat.
5. Locate and carefully remove the engine oil level dipstick.
6. Wipe the dipstick clean. Insert the dipstick fully, then remove it again.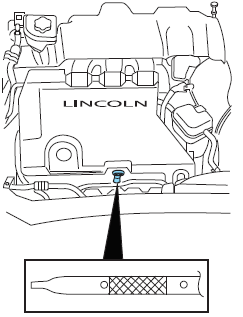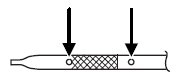 • If the oil level is within this range, the oil level is acceptable.
DO NOT ADD OIL.

• If the oil level is below this mark, engine oil must be added to raise the level within the normal operating range.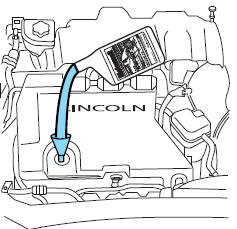 • If required, add engine oil to the engine. Refer to Adding engine oil in this chapter.
• Do not overfill the engine with oil. Oil levels above this mark may cause engine damage. If the engine is overfilled, some oil must be removed from the engine by an authorized dealer.

7. Put the dipstick back in and ensure it is fully seated.
See also:
Trailer lamps
Trailer lamps are required on most towed vehicles. Make sure all running lights, brake lights, turn signals and hazard lights are working. Do not splice into the vehicle lamp wiring for trailer lam ...
Export unique (Non–United States/Canada) vehiclespecific information
For your particular global region, your vehicle may be equipped with features and options that are different from the features and options that are described in this Owner's Guide. A market unique ...
Combination lap and shoulder belts
1. Insert the belt tongue into the proper buckle (the buckle closest to the direction the tongue is coming from) until you hear a snap and feel it latch. Make sure the tongue is securely fas ...