Checking automatic transmission fluid at normal operating temperature (140°F-158°F [60°C-70°C])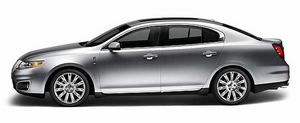 Automatic transmission fluid expands when warmed. To obtain an accurate fluid check, drive the vehicle until it is warmed up (approximately 20 miles [30 km]) until the engine coolant gauge indicates normal operating temperature. If your vehicle has been operated for an extended period at high speeds, in city traffic during hot weather or pulling a trailer, the vehicle should be turned off for about 30 minutes to allow fluid to cool before checking.
1. Drive the vehicle 20 miles (30 km) or until the coolant gauge indicates normal operating temperature.
2. Park the vehicle on a level surface and engage the parking brake.
3. With the parking brake engaged and your foot on the brake pedal, start the engine and move the gearshift lever through all of the gear ranges. Allow sufficient time for each gear to engage (approximately 10–15 seconds in each position).
4. Move the gearshift lever to P (Park) and leave the engine running.
5. Remove the dipstick, wiping it clean with a clean, dry, lint-free rag. If necessary, refer to Identifying components in the engine compartment in this chapter for the location of the dipstick.
6. Install the dipstick making sure it is fully seated in the filler tube.

7. Remove the dipstick and inspect the fluid level. The fluid should read within the hot range on the dipstick if at normal operating temperature (140°F-158°F [60°C-70°C]).
See also:
Perchlorate material
Certain components of this vehicle such as airbag modules, safety belt pretensioners, and button cell batteries may contain Perchlorate Material – Special handling may apply for service or vehicle ...
Check MyKey system status
The vehicle system check will provide the status of the following MyKey parameters: • MYKEY MILES — This odometer only tracks mileage when a MyKey is used. If mileage does not accumulate as exp ...
Autolamp control
The autolamp system provides light sensitive automatic on-off control of the exterior lights normally controlled by the headlamp control. • To turn autolamps on, rotate the control to . ...