Checking automatic transmission fluid at normal operating temperature (140°F-158°F [60°C-70°C])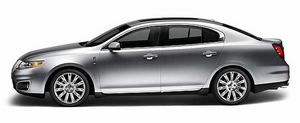 Automatic transmission fluid expands when warmed. To obtain an accurate fluid check, drive the vehicle until it is warmed up (approximately 20 miles [30 km]) until the engine coolant gauge indicates normal operating temperature. If your vehicle has been operated for an extended period at high speeds, in city traffic during hot weather or pulling a trailer, the vehicle should be turned off for about 30 minutes to allow fluid to cool before checking.
1. Drive the vehicle 20 miles (30 km) or until the coolant gauge indicates normal operating temperature.
2. Park the vehicle on a level surface and engage the parking brake.
3. With the parking brake engaged and your foot on the brake pedal, start the engine and move the gearshift lever through all of the gear ranges. Allow sufficient time for each gear to engage (approximately 10–15 seconds in each position).
4. Move the gearshift lever to P (Park) and leave the engine running.
5. Remove the dipstick, wiping it clean with a clean, dry, lint-free rag. If necessary, refer to Identifying components in the engine compartment in this chapter for the location of the dipstick.
6. Install the dipstick making sure it is fully seated in the filler tube.

7. Remove the dipstick and inspect the fluid level. The fluid should read within the hot range on the dipstick if at normal operating temperature (140°F-158°F [60°C-70°C]).
See also:
MyLincoln just the start for technology-packed 2011 Lincoln MKX
The industry-first MyLincoln Touch experience, powered by Lincoln SYNC®, replaces traditional vehicle buttons, knobs and gauges with clear, crisp LCD screens and five-way buttons like those found ...
Vehicle identification number (VIN)
The vehicle identification number is located on the driver side instrument panel. Please note that in the graphic, XXXX is representative of your vehicle identification number. The Vehic ...
Driving while you tow
When towing a trailer: • Do not drive faster than 70 mph (113 km/h) during the first 500 miles (800 km) of trailer towing and don't make full-throttle starts. • Turn off the speed control. The ...