Multi-point Inspection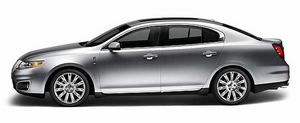 In order to keep your vehicle running right, it is important to have the systems on your vehicle checked regularly. This can help identify potential issues and prevent major problems. Ford Motor Company recommends the following multi-point inspection be performed at every scheduled maintenance interval to help make sure your vehicle keeps running great.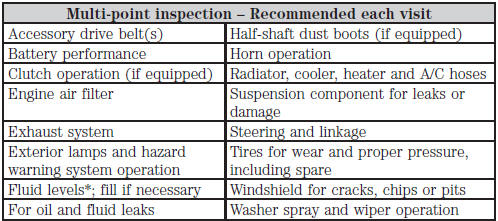 * Brake, coolant recovery reservoir, manual and automatic transmission (with an underhood dipstick), power steering (if equipped) and window washer
Be sure to ask your dealership service advisor or technician about the multi-point vehicle inspection. It's a comprehensive way to perform a thorough inspection of your vehicle. It's your checklist that gives you immediate feedback on the overall condition of your vehicle. You'll know what's been checked, what's okay, as well as those things that may require future or immediate attention. The multi-point vehicle inspection is one more way to keep your vehicle running great!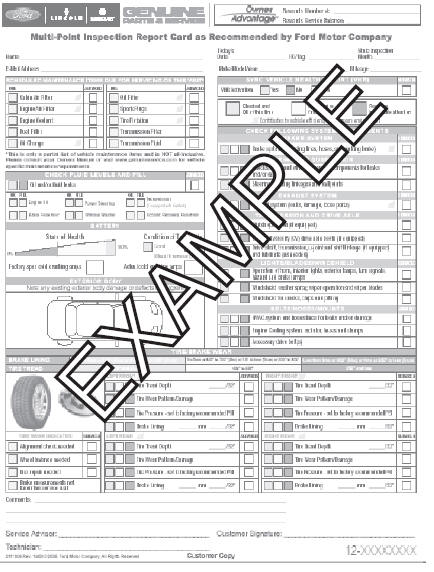 See also:
Push button start system
Your vehicle is equipped with the push button start system. You can start your vehicle by pressing the start button in combination with the brake pedal rather than using a key. The start bu ...
Power distribution box
The power distribution box is located in the engine compartment. The power distribution box contains high-current fuses that protect your vehicle's main electrical systems from overloads. WARNING ...
How does the side airbag system work?
The design and development of the side airbag system included recommended testing procedures that were developed by a group of automotive safety experts known as the Side Airbag Technical Working ...