Interior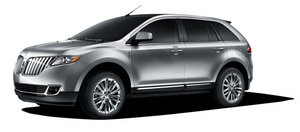 One of the bigger surprises about the new MKX is how nice the interior is. Other Lincolns have similar treatments Ц a leather-stitched dashboard and comfortable heated and cooled leather seats Ц but the MKX is the best of the bunch.
The two-tone color palette is pleasing, and there's plenty of padding on the doors and center console for weary elbows.
All the leather appointments, though, are really just a backdrop to the real stars of this interior: the large steering wheel, digital gauge cluster and a slick center stack, featuring buttonless controls and a touch-screen LCD that overwhelm the driver (in a good way).
I'll dig into how well the multimedia system works later on, but in terms of basic functions, like air conditioning and the radio, the touch-sensitive console works well Е for the most part. The buttons audibly click on and off instantly, and they're as easy to find blindly as are any typical buttons.
The slider pads to control air-conditioning vent speed and stereo volume, however, don't work so well.
The volume slides up and down steadily, but if you press too hard on either the right or left side, the volume jumps up or down. That's intended; you can either push or slide to adjust the volume. But if you go in for the slide and your initial push is too hard, you get the jump rather than a smooth, steady adjustment.
Seat comfort in back is very good, and it was more spacious back there for my passengers than was the Lexus RX 350 I tested a few days later. The spec sheet backs this up, with the advantage in rear dimensions going to the MKX. However, our child-safety seats proved to be tight fits in both models, though things were a bit better in the MKX. That didn't stop constant seat kicking by my kids, though.
The cargo area was also impressively large, at 32.3 cubic feet. That area doesn't beat the Lexus on the spec sheet Ц the RX has 40 cubic feet Ц but the MKX seemed larger for golf bags and large luggage, both of which I took with me on short runs in both SUVs.
See also:
Seat-mounted side airbag system
WARNING: Do not place objects or mount equipment on or near the airbag cover on the side of the seatbacks of the front seats or in front seat areas that may come into contact with a deploying ai ...
Transporting children
Always make sure your child is secured properly in a device that is appropriate for their age, height and weight. All children are shaped differently. The child height, age and weight thresholds p ...
Aiming the headlamps
The headlamps on your vehicle are properly aimed at the assembly plant. If your vehicle has been in an accident the alignment of your headlamps should be checked by your authorized dealer. Verti ...