Like the song? You can tag it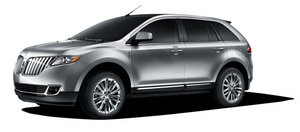 Also new on the 2011 Lincoln MKX is the world's first use of iTunes® Tagging in an available factory-installed HD Radio™ receiver. Enabled by the available Voice-Activated Navigation System through SYNC, iTunes Tagging provides customers with the ability to "capture" a song they hear on the HD Radio receiver for later purchase from iTunes. With a simple push of a "TAG" button on the radio display, the song information will be stored in the radio's memory.
Once a song is tagged and customers dock their iPod to the SYNC system, the "tagged" song information will transfer to that iPod. When the iPod is then synced to iTunes, a playlist of tagged songs will appear. Up to 100 tags on SYNC can be stored until the iPod is connected. When an iPod is connected, the tags are transferred from SYNC to the iPod. Customers then can preview, purchase and download tagged songs from the iTunes Store, if they so choose.
One significant benefit of HD Radio technology is that the sound quality of the broadcast is dramatically better because of the digital transmission - FM sounds like a CD and AM sounds like today's FM broadcasts. Plus, unlike analog broadcasts, digital broadcasts aren't susceptible to interference, fadeout and other issues.
See also:
Interior trunk control
Interior trunk control Press the remote trunk release control on the instrument panel to the left of the steering wheel. ...
Autolamps - programmable exit delay
Programmable exit delay allows the length of the autolamp exit delay to be changed. To program the auto lamp exit time delay: 1. Start with the ignition in the off position and the headlamp contro ...
Brakes
Occasional brake noise is normal. If a metal-to-metal, continuous grinding or continuous squeal sound is present, the brake linings may be worn-out and should be inspected by an authorized deale ...