Adaptive headlamps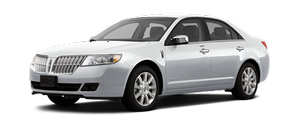 The headlamp beams move in the same direction as the steering wheel which provides more visibility when driving around curves.
• Without adaptive headlamps (1)
• With adaptive headlamps (2)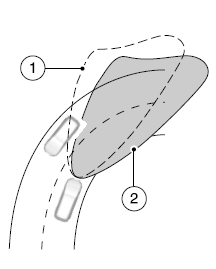 Note: The system has a power-up movement check feature. When the vehicle is started, the lamps track left to right, then back to center to alert the driver that the system is working properly. There is a delay of two to five seconds before the adaptive headlamp system will operate when the vehicle is driven, as the system is inactive below 3 mph (5 km/h).
See also:
Choosing the right fuel
Use only UNLEADED fuel or UNLEADED fuel blended with a maximum of 10% ethanol. Do not use fuel ethanol (E85), diesel, methanol, leaded fuel or any other fuel. The use of leaded fuel is prohibited ...
Technology and Features
Besides the looks, impressive steering and comfortable seating, the other thing the MKS has going for it is an intuitive, feature-packed technology center. Unfortunately, the attractive base price ...
All-wheel drive (awd) system (if equipped)
Your vehicle may be equipped with a full-time all-wheel drive (AWD) system. The AWD system is an active system, meaning it not only responds to wheel slip between the front and rear axles but also ...