Replacing rear brake/tail/turn and sidemarker lamp bulbs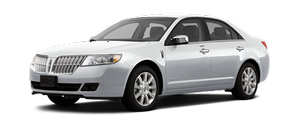 The brake/tail/turn/side marker lamp and backup bulbs are located in the tail lamp assembly. Follow the same steps to replace the bulbs.
Note: Your vehicle is equipped with a tail lamp assembly containing integral multiple light emitting diodes (LED) for the stop/tail and sidemarker functions. If replacement is required, see your authorized dealer.
Х (1) Turn signal bulbs
Х (2) Backup lamp
Х (3) Stop/tail and sidemarker bulbs (LED)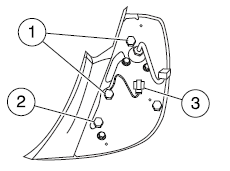 1. Make sure the headlamp switch is in the off position and open the trunk.
2. Remove the cargo net fastener (if equipped) and carefully pull the carpet away to expose the backside of the tail lamp assembly.
3. Remove the nut and washer assemblies, then pull the lamp assembly away from the vehicle.
4. Remove the bulb socket by rotating it counterclockwise, then pulling it out of the lamp assembly.
5. Pull the bulb straight from the socket.
Note: The turn bulb is a socket/bulb assembly and the bulb cannot be removed separately.
Install the new bulb(s) in reverse order.
See also:
Wheel lug nut torque specifications
WARNING: When a wheel is installed, always remove any corrosion, dirt or foreign materials present on the mounting surfaces of the wheel or the surface of the wheel hub, brake drum or brake disc ...
Adaptive cruise control
Collision warning is paired with adaptive cruise control (ACC) because both features use the forward-looking radar system. With a range of up to 600 feet, ACC monitors and adjusts vehicle speed to k ...
Extending the engine run time
To keep the engine running for another remote start duration, repeat Steps 1 and 2 with the engine still running. If you programmed the duration to last 10 minutes, the second 10 minutes will begi ...