Steering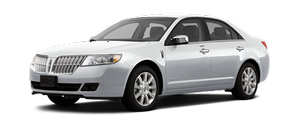 The Lincoln MKS steering system received a thorough makeover for 2013. The gear ratio is quicker (15:1 for 2013 vs. 17.1:1 for today's MKS), making the steering more immediately responsive at all speeds. Additionally, steering boost is now electric rather than hydraulic. The new electric power-assisted steering (EPAS) complements CCD in contributing to the driver-tunable Lincoln Drive Control experience.
Other enhancements contribute to the system's overall improved performance. The steering gear is now solid mounted to the chassis's front subframe. Additionally, a brace has been added under the vehicle (across the transmission tunnel) to strengthen the subframe's mounting points to the chassis.These details help significantly improve the driver's feeling of being connected to the road through the steering wheel. Overall steering response for the 2013 MKS is improved by up to 25 percent.
EPAS offers additional benefits. At lower speeds, for example when parking, EPAS provides additional boost for effortless maneuverability. At higher speeds, EPAS increases steering effort and feedback, giving the driver a more precise steering feel.
EPAS replaces the traditional hydraulic-assist power-steering pump with an electric motor. This helps save fuel because the motor operates only when assistance is required, unlike the hydraulic systems that run continuously. EPAS was standard on 2010-12 MKS models with the 3.5-liter EcoBoost V6, but for 2013, becomes standard on all MKS models.
Software-based technologies, undetectable by the driver, boost the capability of EPAS. Pull-drift compensation detects road conditions such as a crowned surface or crosswinds and adjusts EPAS to compensate. Active nibble control automatically cancels some unwanted steering wheel vibrations at interstate speeds. These actions are designed to give the driver reassurance and maximum control under all driving conditions.
See also:
Heated seats
WARNING: Persons who are unable to feel pain to the skin because of advanced age, chronic illness, diabetes, spinal cord injury, medication, alcohol use, exhaustion, or other physical conditions ...
Second-row adjustable head restraints
Your vehicle is equipped with outboard and center head restraints that are vertically adjustable. WARNING: To minimize the risk of neck injury in the event of a crash, the driver and passenger oc ...
MKZ in the Market
Despite the MKZ's positive attributes, it's going to have a tough go of it in the market. The competition is strong and getting stronger; besides the aforementioned TL and ES, the MKZ is up agains ...