Inspecting your tires and wheel valve stems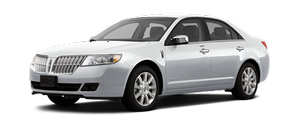 Periodically inspect the tire treads for uneven or excessive wear and remove objects such as stones, nails or glass that may be wedged in the tread grooves. Check the tire and valve stems for holes, cracks, or cuts that may permit air leakage and repair or replace the tire and replace the valve stem. Inspect the tire sidewalls for cracking, cuts, bruises and other signs of damage or excessive wear. If internal damage to the tire is suspected, have the tire demounted and inspected in case it needs to be repaired or replaced. For your safety, tires that are damaged or show signs of excessive wear should not be used because they are more likely to blow out or fail.
Improper or inadequate vehicle maintenance can cause tires to wear abnormally. Inspect all your tires, including the spare, frequently, and replace them if one or more of the following conditions exist:
See also:
Overview
Lincoln introduced its first hybrid - the new 2011 Lincoln MKZ Hybrid - a premium midsize car poised to be the most fuel-efficient luxury sedan in America. Ford Motor Company - America's largest d ...
Ford esp extended service plans (U.S. only)
More than 30 million Ford and Lincoln owners have discovered the powerful protection of Ford ESP. It is the only extended service plan backed by Ford Motor Company, and provides "peace of mind" ...
MKZ Engines, Transmissions and Drive Systems
The 2013 Lincoln MKZ offers three distinct powertrains. The standard 2.0-liter four-cylinder EcoBoost® delivers the performance of a traditional V6 along with expected segment-leading fuel economy ...