Inspecting your tires and wheel valve stems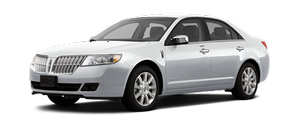 Periodically inspect the tire treads for uneven or excessive wear and remove objects such as stones, nails or glass that may be wedged in the tread grooves. Check the tire and valve stems for holes, cracks, or cuts that may permit air leakage and repair or replace the tire and replace the valve stem. Inspect the tire sidewalls for cracking, cuts, bruises and other signs of damage or excessive wear. If internal damage to the tire is suspected, have the tire demounted and inspected in case it needs to be repaired or replaced. For your safety, tires that are damaged or show signs of excessive wear should not be used because they are more likely to blow out or fail.
Improper or inadequate vehicle maintenance can cause tires to wear abnormally. Inspect all your tires, including the spare, frequently, and replace them if one or more of the following conditions exist:
See also:
Improved performance without sacrificing fuel economy
Power for the 2011 Lincoln MKX is supplied by the 3.7-liter Duratec V-6, which employs advanced technology and clever control strategies, such as Twin Independent Variable Camshaft Timing (Ti-VCT) ...
Safety Practices
WARNING: If your vehicle is stuck in snow, mud, sand, etc., do not rapidly spin the tires; spinning the tires can tear the tire and cause an explosion. A tire can explode in as little as three to ...
Looks
Whether it's the hearse-like black, the eggplant-purple or the dark red one I ogle at my local Lincoln dealership whenever I drive by, I think the MKT is a breathtaking design. Others might say ...