Starting your vehicle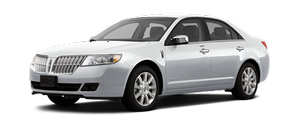 This system meets all Canadian interference-causing equipment standard requirements regulating the impulse electrical field strength of radio noise.
DonТt press the accelerator before or during starting. Only use the accelerator when you have difficulty starting the engine. For more information on starting the vehicle, refer to Starting the engine in this chapter.
To avoid potential transmission damage at extremely cold temperatures (below -20∞F [-30∞C]), it is recommended that the vehicle be warmed up to normal operating temperature before driving at highway speeds above 50 mph (80 km/h). Normal operating temperature is normally reached after 10 minutes of moderate driving or idling.
WARNING: Extended idling at high engine speeds can produce very high temperatures in the engine and exhaust system, creating the risk of fire or other damage.
WARNING: Do not park, idle, or drive your vehicle in dry grass or other dry ground cover. The emission system heats up the engine compartment and exhaust system, which can start a fire.
WARNING: Do not start your vehicle in a closed garage or in other enclosed areas. Exhaust fumes can be toxic. Always open the garage door before you start the engine. See Guarding against exhaust fumes in this chapter for more instructions.
WARNING: If you smell exhaust fumes inside your vehicle, have your dealer inspect your vehicle immediately. Do not drive if you smell exhaust fumes.
Important safety precautions
When the engine starts, the idle RPM runs higher than normal in order to warm the engine. If the engine idle speed does not slow down automatically, have the vehicle checked.
Before starting the vehicle:
1. Make sure all vehicle occupants have buckled their safety belts. For more information on safety belts and their proper usage, refer to the Seating and Safety Restraints chapter.
2. Make sure vehicle accessories are off.
Х Make sure the parking brake is set.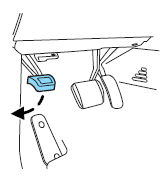 Х Make sure the gearshift lever is in P (Park).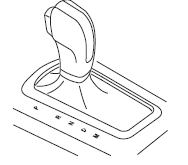 See also:
Safety belt height adjustment
Your vehicle has safety belt height adjustments at the front outboard seating positions. Adjust the height of the shoulder belt so the belt rests across the middle of your shoulder. To adju ...
If your vehicle goes off the edge of the pavement
Х If your vehicle goes off the edge of the pavement, slow down, but avoid severe brake application, ease the vehicle back onto the pavement only after reducing your speed. Do not turn the steering ...
Replacing fog lamp bulbs
1. Make sure the fog lamp switch is in the off position. 2. From underneath the vehicle, partially remove the tire splash shield by removing four drive screws. After removing to allow fr ...