Wheel lug nut torque specifications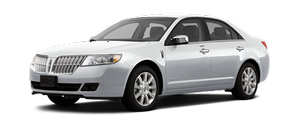 Retighten the lug nuts to the specified torque within 100 miles (160 km) after any wheel disturbance (rotation, flat tire, wheel removal, etc.).

WARNING: When a wheel is installed, always remove any corrosion, dirt or foreign materials present on the mounting surfaces of the wheel or the surface of the wheel hub, brake drum or brake disc that contacts the wheel. Ensure that any fasteners that attach the rotor to the hub are secured so they do not interfere with the mounting surfaces of the wheel. Installing wheels without correct metal-to-metal contact at the wheel mounting surfaces can cause the wheel nuts to loosen and the wheel to come off while the vehicle is in motion, resulting in loss of control.
Note: Inspect the wheel pilot hole (1) and mounting surface prior to installation. Remove any visible corrosion or loose particles.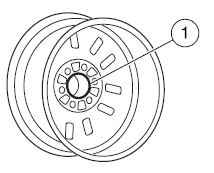 See also:
Checking automatic transmission fluid
Refer to your scheduled maintenance information for scheduled intervals for fluid checks and changes. Your transmission does not consume fluid. However, the fluid level should be checked if the ...
Use of inboard lower anchors from the outboard seating positions (center seating use)
The lower anchors at the center of the second row rear seat are spaced 460 mm (18 inches) apart. The standardized spacing for LATCH lower anchors is 280 mm (11 inches) center to center. A child se ...
Paint chips
Your authorized dealer has touch-up paint to match your vehicle's color. Take your color code (printed on a sticker in the driver's door jamb) to your authorized dealer to ensure you get the corr ...