More capable braking system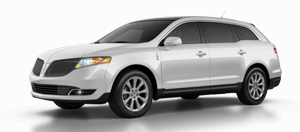 To match the engine's extra power and the suspension's additional handling capabilities, Lincoln has significantly upgraded the MKT braking system for 2013. The new vented front discs measure 13.86 inches (352 millimeters), more than an inch larger than 2012. To enhance brake cooling, the "hat" portion of the front brake disc is also vented, a unique design developed by Ford Motor Company.
Additionally, the diameter of the rear discs increased 0.58 of an inch to 13.58 inches and the discs are now vented. Brake pad area and total swept area increased significantly, with each improvement working together to improve braking performance, reduce brake fade under heavy use and provide the driver with a more direct and linear braking feel.
See also:
Important safety precautions
WARNING: Do not overfill the fuel tank. The pressure in an overfilled tank may cause leakage and lead to fuel spray and fire. WARNING: The fuel system may be under pressure. If you hear a hissing ...
Mud and water
If you must drive through high water, drive slowly. Traction or brake capability may be limited. When driving through water, determine the depth; avoid water higher than the bottom of the wheel ...
Types of garage door openers (rolling code and fixed code)
The Car2U Home Automation System may be programmed to operate rolling code and fixed code garage door openers. • Rolling code garage door openers were produced after 1996 and are code protected. ...