More capable braking system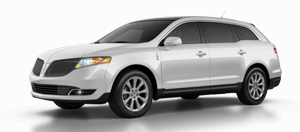 To match the engine's extra power and the suspension's additional handling capabilities, Lincoln has significantly upgraded the MKT braking system for 2013. The new vented front discs measure 13.86 inches (352 millimeters), more than an inch larger than 2012. To enhance brake cooling, the "hat" portion of the front brake disc is also vented, a unique design developed by Ford Motor Company.
Additionally, the diameter of the rear discs increased 0.58 of an inch to 13.58 inches and the discs are now vented. Brake pad area and total swept area increased significantly, with each improvement working together to improve braking performance, reduce brake fade under heavy use and provide the driver with a more direct and linear braking feel.
See also:
Universal garage door
The universal garage door opener can be used to replace the common hand-held transmitter. ...
Adding engine coolant
When adding coolant, make sure it is a 50/50 mixture of engine coolant and distilled water. Add the mixture to the coolant reservoir, when the engine is cool, until the appropriate fill level is o ...
Wrecker towing
If you need to have your vehicle towed, contact a professional towing service or, if you are a member of a roadside assistance program, your roadside assistance service provider. It is recomm ...