Operating tips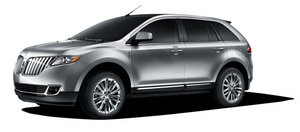 • To reduce fog build-up on the windshield during humid weather, select

(defrost).
• To reduce humidity build-up inside the vehicle: do not drive with the system off or with recirculated air engaged.
• Do not put objects under the front seats that will interfere with the airflow to the back seats.
• Remove any snow, ice or leaves from the air intake area at the base of the windshield.
• To improve the A/C cool down, drive with the windows slightly open for 2–3 minutes after starting the vehicle or until the vehicle has "aired out."
• A small amount of air may be felt from the floor vent regardless of the air distribution setting that is selected.
During extreme high ambient temperatures when idling stationary for extended periods of time in gear, it is recommended to run the A/C in MAX A/C, reduce blower fan speed from the highest setting and put the vehicle's transmission in P (Park) to continue to receive cool air from your A/C system.
For maximum cooling performance (MAX A/C):
1. Press MAX A/C. The system will default to single-zone operation and set the temperature to 60°F (16°C).
2. A/C,

and

will be selected.
3. Fan speed will be determined by the vehicle's internal temperature, but can be adjusted as desired.
To aid in side window defogging/demisting in cold weather:
1. Select

.
2. Select A/C.
3. Adjust the temperature control to maintain comfort.
4. Set the fan to the highest speed.
5. Direct the outer instrument panel vents toward the side windows.
To increase airflow to the outer instrument panel vents, close the vents located in the middle of the instrument panel.
See also:
Power door unlock/lock procedure
Before starting, ensure the ignition is in the off position and all vehicle doors are closed. You must complete Steps 1–5 within 30 seconds or the procedure will have to be repeated. If the proced ...
Preparing your vehicle
When the battery is disconnected or a new battery is installed, the automatic transmission must relearn its shift strategy. As a result, the transmission may have firm and/or soft shifts. This ope ...
Instrument cluster with standard measure shown– metric similar
Warning lights can alert you to a vehicle condition that may become serious enough to cause extensive repairs. A warning light may illuminate when a problem exists with one of your vehicle's fun ...