Rear heated seats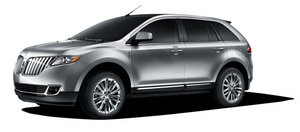 WARNING: Persons who are unable to feel pain to the skin because of advanced age, chronic illness, diabetes, spinal cord injury, medication, alcohol use, exhaustion, or other physical conditions, must exercise care when using the seat heater. The seat heater may cause burns even at low temperatures, especially if used for long periods of time. Do not place anything on the seat that insulates against heat, such as a blanket or cushion, because this may cause the seat heater to overheat. Do not puncture the seat with pins, needles, or other pointed objects because this may damage the heating element which may cause the seat heater to overheat. An overheated seat may cause serious personal injury.
Note: Do not do the following:
Х Place heavy objects on the seat
Х Operate the seat heater if water or any other liquid is spilled on the seat. Allow the seat to dry thoroughly.
The rear seat heat controls are located on the rear door panels.
The heated seats only operate when the ignition is on. To operate the heated seats:
Х Press the indicated side of the control for maximum heat.
Х Press again to deactivate.

Х Press the indicated side of the control for minimum heat.
Х Press again to deactivate.

The heated seat module resets at every ignition run cycle. While the ignition is in the on position, activating the high or low heated seat switch enables heating mode. When activated, they will turn off automatically when the engine is turned off.
The indicator light will illuminate when the heated seats have been activated.
See also:
One-time disable
If at any time the driver/front passenger quickly buckles then unbuckles the safety belt for that seating position, the Belt-Minder is disabled for the current ignition cycle. The Belt-Minder feat ...
Preparing to tow
Use the proper equipment for towing a trailer and make sure it is properly attached to your vehicle. Contact your authorized dealer or a reliable trailer dealer as soon as possible if you require ...
Engine oil and filter recommendations
Use SAE 5W-20 engine oil Look for this certification trademark. Only use oils certified for gasoline engines by the American Petroleum Institute (API). An oil with this trademark symbol confor ...