Important information for P265/40R22 low-profile tires and wheels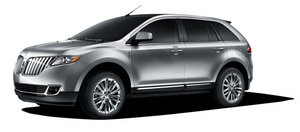 If your vehicle is equipped with P265/40R22 tires, they are low-profile tires. These tires and wheels are designed to give you r vehicle a sport appearance. With low-profile tires, you may notice an increase in road noise and faster tire wear, depending on road conditions and driving styles. Due to their design, low-profile tires and wheels are more prone to road damage from potholes, rough or unpaved roads, car wash rails and curb contact than standard tires and wheels. Your vehicle's warranty does not cover these types of damage. Tires should always be kept at the correct inflation pressures and extra caution should be taken when operating on rough roads to avoid impacts that could cause wheel and tire damage.
See also:
Cell phone use
The use of mobile communications equipment has become increasingly important in the conduct of business and personal affairs. However, drivers must not compromise their own or others' safety when ...
Trailer towing
Trailer towing puts additional loads on your vehicle's engine, transmission, axle, brakes, tires and suspension. For your safety and to maximize vehicle performance, be sure to use the proper equi ...
Replacing high-mount brake lamp bulbs
Your vehicle is equipped with an LED center high-mount stop lamp. It is designed to last the life of the vehicle. If replacement is required, it is recommended that you see your authorized dealer. ...