All-wheel drive (AWD) system (if equipped)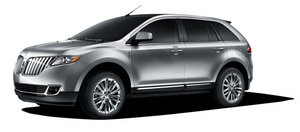 Your vehicle may be equipped with a full-time all-wheel drive (AWD) system. With the AWD option, power will be delivered to the front wheels and distributed to the rear wheels as needed. This increases traction which may enable you to safely drive over terrain and road conditions that a conventional two-wheel drive vehicle cannot. The AWD system is active all the time and requires no input from the operator.
Note: Your AWD vehicle is not intended for off-road use. The AWD feature gives your vehicle some limited off-road capabilities in which driving surfaces are relatively level, obstruction-free and otherwise similar to normal on-road driving conditions. Operating your vehicle under other than those conditions could subject the vehicle to excessive stress which might result in damage which is not covered under your warranty.
For AWD vehicles, a spare tire of a different size other than the tire provided should never be used. A dissimilar spare tire size (other than the spare tire provided) or major dissimilar tire sized between the front and rear axles could cause the AWD system to stop functioning and default to front-wheel drive.
WARNING: Do not become overconfident in the ability of AWD vehicles. Although a AWD vehicle may accelerate better than two-wheel drive vehicle in low traction situations, it won't stop any faster than two-wheel drive vehicles. Always drive at a safe speed.
See also:
Fuel Economy
Press the right arrow on the left steering wheel mounted button when fuel economy is selected. The boxes in the upper right corner of the screen indicate that there are multiple screens that you c ...
New flowing exterior design perfectly wraps new Lincoln MKX technologies
The flowing exterior design of the 2011 Lincoln MKX provides the perfect complement to the luxury crossover's industry-leading technology and class-exclusive features. "The 2011 Lincoln MKX ...
Remote start
The remote start feature allows you to start the engine from outside the vehicle. If your transmitter has a icon, you have remote start. The remote start feature has an extended operating range ...