All-wheel drive (AWD) system (if equipped)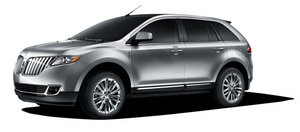 Your vehicle may be equipped with a full-time all-wheel drive (AWD) system. With the AWD option, power will be delivered to the front wheels and distributed to the rear wheels as needed. This increases traction which may enable you to safely drive over terrain and road conditions that a conventional two-wheel drive vehicle cannot. The AWD system is active all the time and requires no input from the operator.
Note: Your AWD vehicle is not intended for off-road use. The AWD feature gives your vehicle some limited off-road capabilities in which driving surfaces are relatively level, obstruction-free and otherwise similar to normal on-road driving conditions. Operating your vehicle under other than those conditions could subject the vehicle to excessive stress which might result in damage which is not covered under your warranty.
For AWD vehicles, a spare tire of a different size other than the tire provided should never be used. A dissimilar spare tire size (other than the spare tire provided) or major dissimilar tire sized between the front and rear axles could cause the AWD system to stop functioning and default to front-wheel drive.
WARNING: Do not become overconfident in the ability of AWD vehicles. Although a AWD vehicle may accelerate better than two-wheel drive vehicle in low traction situations, it won't stop any faster than two-wheel drive vehicles. Always drive at a safe speed.
See also:
Operating the HomeLink Wireless Control System
To operate, simply press and release the appropriate HomeLink button. Activation will now occur for the trained product (garage door, gate operator, security system, entry door lock, or hom ...
How Temperature Affects Your Tire Pressure
The tire pressure monitoring system (TPMS) monitors tire pressure in each pneumatic tire. While driving in a normal manner, a typical passenger tire inflation pressure may increase approximately 2 ...
Treadwear
The treadwear grade is a comparative rating based on the wear rate of the tire when tested under controlled conditions on a specified government test course. For example, a tire graded 150 would w ...